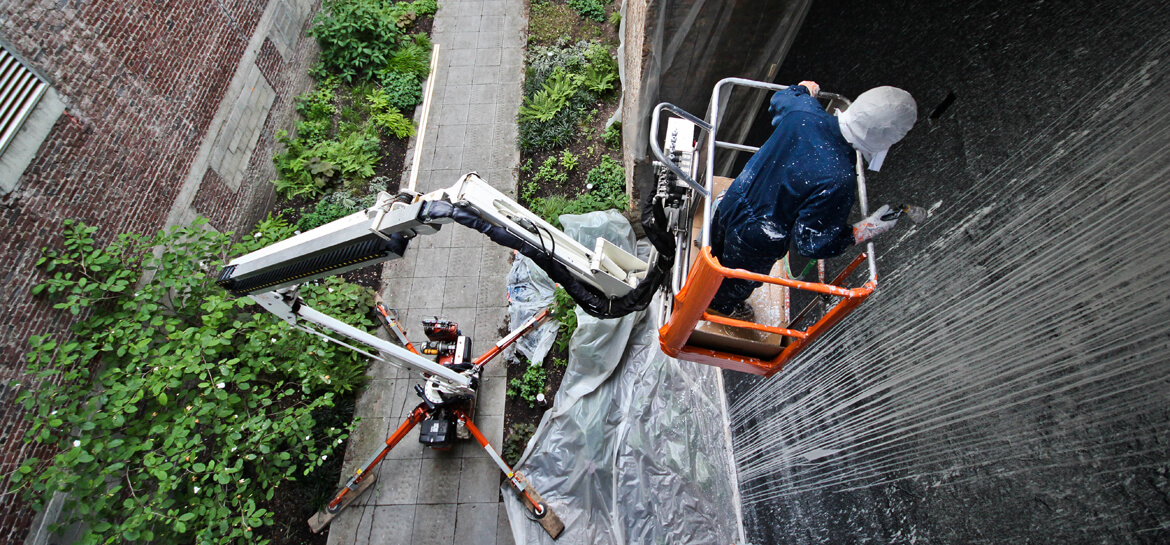 LASCO PROJECT #4
Craig Costello
The null De at
For the LASCO PROJECT's 4th edition, Palais de Tokyo continues to explore the urban arts by providing new york artist Craig Costello with a new space to take over.
Craig Costello deploys his monumental extinguisher paintings on the Palais de Tokyo outside arches.  His abstract landscapes get freezed through a movement of both delicateness and violence. His radical technique doesn't allow any second chance.
On the wide 50 meters long and 10 meters high surface of  the Arches Wilson, Craig Costello brings his painting face to face with the old stones and the wild ever-present nature. He draws a long path similar to a procession in a subway tunnel filled with a powerful baroque light.
Curator: Hugo Vitrani
LASCO PROJECT SINCE 2012
Palais de Tokyo decided in 2012 to dedicate part of its programme to urban arts. The Lasco Project was born. Interventions by artists in the bowels of the Palais' building have since been inscribing the street into art history. Since December 2012, roughly sixty international talents have been part of the action, including Futura 2000, O'Clock, Mode 2, Boris Tellegen, Dran, Skki, Evol, Vhils, Azyle, Horfée and Ken Sortais, duo Lek & Sowat as well as Cleon Peterson to name but a few.
The Lasco Project revolves around a variety of street themes such as urban violence, social demons and tensions, political messages and intergenerational dialogue. Paintings and installations are set in the obscur backdrop of the underground nooks and crannies of the Palais. Covering over two kilometers of corridors, stairwells and even some 'secret' passages, these roughed-in spaces below the Palais de Tokyo make up one of the strangest and most fascinating exhibition spaces dedicated to urban art contained in a cultural venue.
Free guided tours every Wednesdays, Saturdays and Sundays at noon & everyday (except Tuesdays) at 10 p.m.
_
Free upon presentation of your entry ticket.
_
Duration: 30 mins
"When I used to write, the dripping was my signature. Today it's not about writing my name anymore. By removing the writing from the equation I got even more interested in the drips: they trundle along freely according to the wind, the inclination, the gravity and the different textures of the support. It's a very organic process." Craig Costello