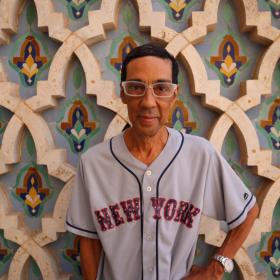 Futura 2000 is born in 1955. He lives and works in Brooklyn.
A pionneer when Graffiti met the studio and exhibition ecosystems, Futura 2000 (born Leonard Hilton McGurr) was known as early as the 1970s for his radical approach in the street, introducing abstraction to what was an entirely letter-based discipline. Entirely self-taught in what he calls "the subway school", Futura 2000 soon started painting as much in the public space as in a studio. With his friends Kenny Scharf, Rammellzee, Dondi White, Keith Haring or else Jean Michel Basquiat, the artist participated in the upsurge of the "new wave" of underground New York painters, to cite the title of the historic exhibition that brought them together in 1981 at the Ps1, "New York / New Wave". Since then, the artist has exhibited in a large number of galleries and international institutions (Fun Gallery, Tony Shafrazi, Yvon Lambert, the galerie du jour agnès b., the Galerie De Noirmont, MoMA PS.1, New Museum and the MoCA in Los Angeles). He has also recently worked with Kaikai Kiki Gallery (Tokyo), founded by Takashi Murakami, on print editions, art fair presentations, and gallery exhibitions. His work is currently on show as part of the exhibition "Writing the Future: Basquiat and the Hip Hop Generation", at the Museum of Fine Art, Boston (April – August 2020).
As a historical actor in the Hip-Hop movement, Futura has painted as an accompaniment to demonstrations of break dance by the Rock Steady Crew, to concerts by Grand Master Flash and Afrika Bombataa, as well as on the European tour of the Clash in 1981, with whom he recorded the vinyl "The Escapades of Futura 2000", a manifesto for graffiti. Futura has also created the legendary album covers for U.N.K.L.E., the outfit of James Lavelle, the founder of the Mo'Wax record label. He has also designed tour merchandise for The Weeknd.
As a popular icon, the artist has also founded Futura Laboratories, a design studio and commercial product engine, that enables him to work with brands, as a means to invade the public space in a different way. He has, for example, produced several large-scale collections and DJ performance visuals for Virgil Abloh (Off White, Louis Vuitton), Nike, Lévi's, BMW, and Comme des Garçons.