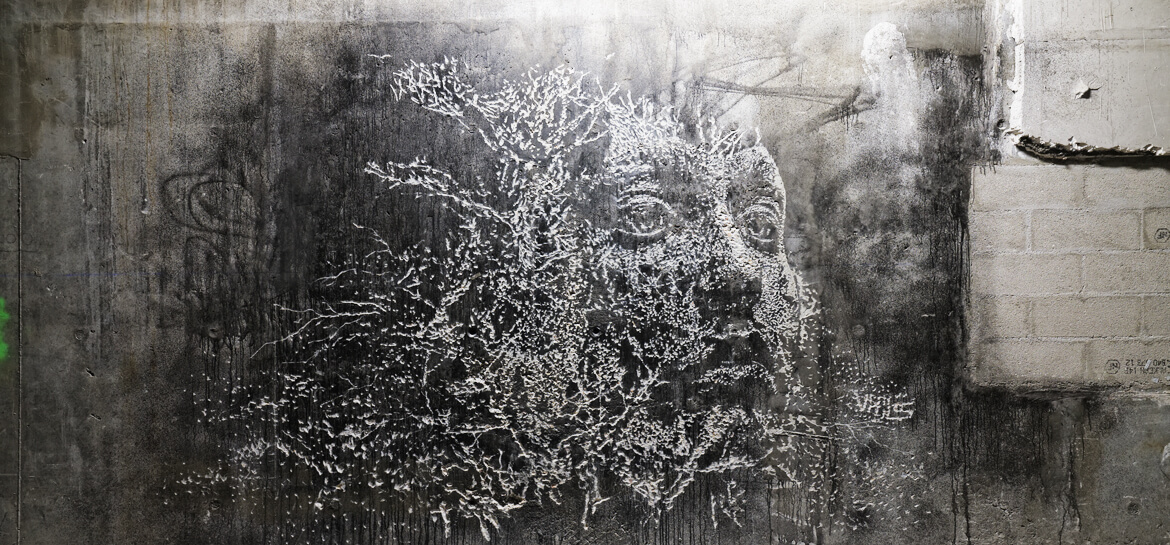 LASCO PROJECT #3
From 14/06/2014 to null
LASCO PROJECT #3 allows visitors to discover new parts of the Palais de Tokyo's cavernous basement level for the first time: there, in one of the most unusual institutional spaces to be devoted to this purpose, they will find interventions by internationally renowned graffiti artists. Radically infiltrating the Palais de Tokyo, these artists, participating in an intergenerational dialog, reflect on the four themes of urban violence, inner demons, social tension, the political weight of walls, and the history of graffiti itself.
Palais de Tokyo has long been deeply committed to urban and graffiti art. Graffiti as a whole is forever recasting its relationship to the art world and its institutions, finding endless new ways to explore, infiltrate, and subvert public space. As such, the Palais de Tokyo's inclusion of graffiti art clearly encapsulates its conception of art: our mission is to create a permeability within the art world, finding ways for graffiti art to participate in and enrich the ecosystem of art.
One of the most sought-after illustrators in the skateboard industry, Cleon Peterson (b. 1973, lives and works in Los Angeles) depicts a dystopian Eldorado in which chaos and vice, unshackled from morality and justice, are given free reign. Anonymous vagrants, policemen, capitalists and crack addicts clash and brawl, stab and rape. Cleon Peterson portrays a graphic, pared-down nightmare, pushing to an extreme the tensions felt daily in the ultra-violent urban landscapes in which he was raised.
Horfé and Ken Sortais (b. 1983, live and work in Paris) shook up the European graffiti scene with paintings influenced by underground and popular culture (comics, cartoons, tattoos, etc.). Classically trained graduates of the Beaux-Arts in Paris, Horfé and Ken Sortais have developed a strong studio-based practice, complete with museum and gallery exhibitions, all the while remaining very active in the streets. Through their artists' collective, PAL (Peace And Love), they multiply their illegal paintings in public spaces. Ken Sortais' work was previously exhibited at the Palais de Tokyo in 2011 after the artist won that year's Prix du Salon de Montrouge. For this intervention at the museum, the duo was inspired by the underground Japanese manga "Violence Jack," created in 1973 by Go Nagai, in which heroes, resistance fighters, victims and survivors-turned-executioners in a post-apocalyptic, violent urban setting.
Successions of black windows, balconies, shadows, satellite dishes: Evol (b. 1970, lives and works in Berlin) highjacks urban space with his stencils of miniature housing projects, placing the peripheral, the invisible, at the heart of cities and institutions. His installation work was awarded the Prix Arte/Slick in 2010. His scattering of buildings in ruins is a pointed comment on the failure of an architectural and political utopia.
Arrested by the police's anti-graffiti task force in 2012, Cokney (b. 1985, lives and works in Paris) was tried and was fined over 200,000 euro for his illegal paintings on trains and subway cars, a decision which he contested. This incident, and the publicity it received, compelled the artist to eschew the secrecy and clandestinity typically associated with graffiti art, paradoxically allowing him to own up to—and even lay claim—to his work. A celebrated tattoo artist, Cokney worked at Seen (NYC) before setting up at Hand In Glove (Paris). In his installation at the Palais de Tokyo, Cokney combines paintings with the estimates, complaints and reports generated during his trial, thus emphasizing that the police archives and the judicial examination of his work constitute an integral part of his production.
Subway tagger Alexandre Farto, aka Vhils (b.1987, lives and works in Lisbon), uses destruction as a creative force. Lisbon's crumbling walls, still bearing the scars of the Carnation Revolution of 1974, had progressively been covered with advertising billboards and graffiti, when Vhils—a graduate of Central Saint Martins College of Art and Design (London)—stole the scene with his "Scratching the Surface" series, chiseling anonymous faces into walls, using methods ranging from controlled TNT explosions to jackhammering. Vhils etches vast urban palimpsests directly into walls, such that they become witnesses to world history. Ever since his work was presented alongside Banksy's during the "Cans Festival" and published on the front page of the New York Times, Vhils has collaborated with major players of the urban scene and shown his work in several prominent institutions.
'80s artist Futura 2000 (b. 1955, lives and works in New York) revolutionized the canons of American graffiti art by moving away from the classical typographical style and towards abstraction.
A member of UGA (United Graffiti Artists), Futura was one of the first urban artists to move into the studio. Deeply involved in the development of hip-hop, he also painted backdrops live onstage during The Clash's 1981 European tour. He also recorded the song "The Escapades of Futura 2000" with that mythical band. His works on canvas have been shown in the most prestigious galleries and institutions worldwide (Fun Gallery, Yvon Lambert Gallery, Galerie du Jour / agnès b., PS1, etc.) alongside Jean Michel Basquiat, Keith Haring, Andy Warhol, Rammelzee, Dondi White or even Kenny Scharf. By participating in the Lasco Project, Futura 2000 intiates a dialog with the younger generation of graffiti artists, who share his desire to make a mark on the history of art.
Curator: Hugo Vitrani
Free guided tours every Wednesdays, Saturdays, and Sundays at noon & everyday (except Tuesdays) at 10 p.m.
_
Free upon presentation of your entry ticket.
_
Duration: 30 mins