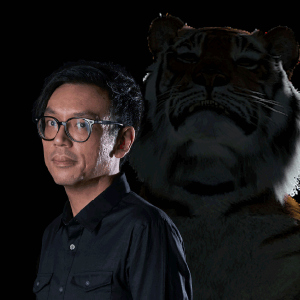 Born in 1976 in Singapore, where he lives and works.
Steeped in numerous Eastern and Western cultural references ranging from art history to theatre and from cinema to music to philosophy, Ho Tzu Nyen's works blend mythical narratives and historical facts to mobilise different understandings of history, its writing and its transmission. The central theme of his œuvre is a long-term investigation of the plurality of cultural identities in Southeast Asia, a region so multifaceted in terms of its languages, religions, cultures and influences that it is impossible to reduce it to a simple geographical area or some fundamental historical base. This observation as to the history of this region of the world is reflected in his pieces which weave together different regimes of knowledge, narratives and representations. From documentary research to fantasy, his work combines archival images, animation and film in installations that are often immersive and theatrical.
For his first major exhibition in France, Ho Tzu Nyen presents a set of works emblematic of his practice as a whole, including the ongoing piece The Critical Dictionary of Southeast Asia (2012 – present), a matrix that generates narratives through an algorithm, the video installation One or Several Tigers (2017), whose quasi-baroque aesthetics feature a were-tiger that embodies the repression of colonial modernity in Malaysia, and the animated film The 49th Hexagram (2020), which depicts a demonstration being violently repressed set to a reading of a text from the I-Ching.
Ho Tzu Nyen is represented by the Kiang Malingue Gallery in Hong Kong. His work has recently been presented in solo exhibitions at the Toyota Municipal Museum of Art, Aichi (2021), the Yamaguchi Center for Arts and Media (2021) and the Edith-Russ-Haus for Media Art, Oldenburg (2019). He has participated in the Gwangju Biennale (2021) and the 14th Sharjah Biennial (2019). His films have also been screened at numerous international festivals.
 His works are presented with the support of the gallery Kiang Malingue, Hong Kong.