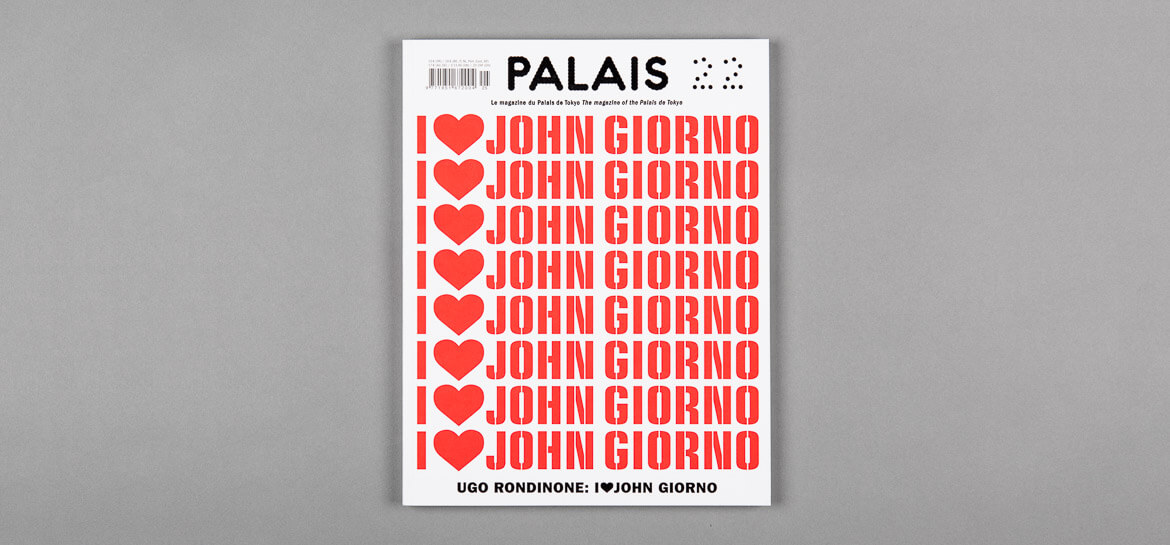 Magazine PALAIS #22
PALAIS offers an in-depth perspective at the exhibitions and the program of the Palais de Tokyo. Each season, the magazine places considerable emphasis on the artists' self-expression, while inventing new kinds of interventions. It is open to other fields and other temporalities, thus becoming a tool for the comprehension of the present.
Release date: October 19, 2015
Issue 22 of PALAIS magazine is entirely devoted to the Ugo Rondinone's exhibition "I Love John Giorno" at the Palais de Tokyo (October 21, 2015 – January 10, 2016), the first retrospective of the life and work of the American poet John Giorno, a key figure of America's counterculture since the 1960s.
Featured in issue 22:
This issue of PALAIS magazine follows the organization of the exhibition in eight chapters, each standing for one facet of John Giorno's multifarious work and life. It includes a series of original contributions and artists' testimonials, documents from John Giorno's personal archives, and also a selection of John Giorno's writings.
With contributions by: John Giorno; Ugo Rondinone; Florence Ostende, the curator of the exhibition; Marcus Boon, Laura Hoptman, Daniel Kane and Jean-Jacques Lebel concerning John Giorno's oeuvre; Bruce Jenkins on John Giorno and Andy Warhol; Marcia Bassett and Anastasia Clarke on John Giorno's archives; Nathalie Bazin and Vivian Kurz on Tibetan Buddhism and its importance for John Giorno; Anne Collier and Matthew Higgs about Giorno Poetry Systems; as well as by Verne Dawson, Judith Eisler, Pierre Huygue, Françoise Janicot, Scott King, Gérard-Georges Lemaire, Elizabeth Peyton, Michael Stipe, Billy Sullivan, Rirkrit Tiravanija.
See more
About
Bilingual (French & English)
216 pages ein color;
Format : 285 x 225 mm
ISSN 1 951-672X
ISBN 978-2-84711-061-6
15 € (FRANCE)
16 € (BE, IT, NL, Port. Cont, SP)
17 € (AU, DE)
£ 13.90 (UK)
20 CHF (CH)