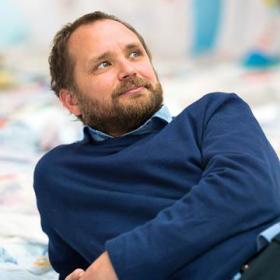 Tomás Saraceno was born in 1973 in Tucumán, Argentina. He lives and works in and beyond the planet Earth.
After obtaining his Masters in architecture at the Escuela Superior de Bellas Artes de la Nación Ernesto de la Cárcova in Buenos Aires, Tomás Saraceno studied Fine Art at the Städelschule in Francfort, followed by a Masters in Art and Architecture at the IUAV in Venice. Saraceno then moved to Berlin, where he works on projects that aim to travel "on and beyond planet Earth". In 2009, the artist's work was exhibited at the 53rd Venice Biennale, "Fare Mundi" directed by Daniel Birnbaum. His last major solo shows include "Cloud Cities", presented at the Hamburger Bahnhof in Berlin in 2011, and "On Space Time Foam" at the HangarBicocca in Milan in 2012. The same year, Saraceno produced an in situ Cloud City installation at the Metropolitan Museum of New York's rooftop. Since 2013, Düsseldorf's K21 Ständenhaus presents his aerial installation In Orbit, and in 2016 the show "Stillness in Motion, Cloud Cities" has been on at the San Francisco Museum of Modern Art.
He has held residencies at Centre National d'Études Spatiales (2014–2015), MIT Center for Art, Science & Technology (2012–ongoing) and Atelier Calder (2010), among others. His work has been widely exhibited internationally in solo and group exhibitions, and is included in the collections of MoMA, New York; SFMOMA, San Francisco; Walker Art Center, Minneapolis; Nationalgalerie, Staatliche Museen zu Berlin, Berlin; among others.
Tomás Saraceno first presented his work at Palais de Tokyo in February 2015 in the exhibition "Le Bord des Mondes", then proposed the seminar Aerocene along with the workshop "Museo Aerosolar", in response to the COP21 in December 2015. His work Du sol au soleil was on view from October 2017 to January 2018 in Palais de Tokyo's offsite exhibition « Voyage d'Hiver » in the gardens of Versailles's castle.