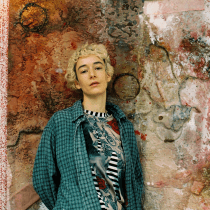 Born in 1986 in Alès (France), Mimosa Echard lives and works in Paris.
She graduated from the École nationale supérieure des Arts Décoratifs de Paris in 2010. Her practice covers a wide range of processes. The artist carries out a work of collection and gleaning, both of natural materials and manufactured elements. She brings them together to make them dialogue, proceeding by contamination, associating the living and the non-living in a hedonic relationship, thus exploring the intermediate stages between the natural and artificial worlds. The resulting creations suggest both their own destruction and their development towards a new stage of evolution.
Mimosa Echard is nominated for the 22nd Marcel Duchamp Prize, which will be awarded in the fall of 2022. She will benefit from a residency in Miami with the Villa Albertine in late 2022. She has recently enjoyed solo exhibitions at ACCA (Melbourne, 2020), Dortmunder Kunstverein (Dortmund, 2019), École municipale des beaux-arts (Gennevilliers, 2019) and Cell Project Space (London, 2017), among others. She has also participated in several group exhibitions. Her works have been acquired by numerous collections, including:CNAP – Centre national des arts plastiques (Paris), Musée d'Art Moderne de Paris, Fondation d'entreprise Galeries Lafayette (Paris), Samdani Art Foundation (Dhaka), Ettore Fico Foundation (Turin), IAC (Villeurbanne).
The artist is represented by the galleries Chantal Crousel (Paris) and Martina Simeti (Milan).