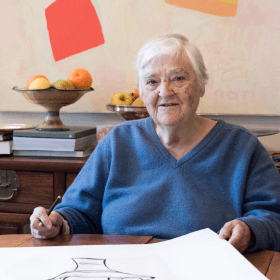 Born in Beirut, Lebanon in 1925 and died in November 2021, Etel Adnan is a Lebanese-American poet, essayist and artist.
Her career encompasses a wide range of disciplines, including poetry, painting, drawing, tapestry, film, ceramics and leporello artists' books. Landscape is an important theme in his work. It is tinged with memory and the feeling of displacement. Her work has gained international recognition since Documenta13 in 2012. In 2014, she was invited to the Whitney Museum Biennial (New York) and the Qatar Museum of Modern Art, the Mathaf, dedicated a retrospective to her, curated by Hans Ulrich Obrist. Since then, many museums (Bern, Luxembourg, San Francisco, Aspen, Lille…) and art centers have devoted exhibitions to her. Etel Adnan's works can be found in numerous collections, including the Centre Pompidou, Musée national d'art moderne; Mathaf, Doha, Qatar; MoMA, New York; M+, Hong Kong, etc., as well as in many private collections.
She passed away in November 2021.