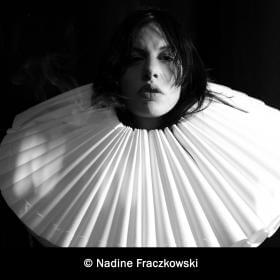 Anne Imhof was born in 1978 in Giessen, Germany. She lives and works in Berlin and Frankfurt (Germany).
After studying at the Städelschule (Frankfurt, Germany), in 2013 she put on her first solo exhibition "Parade" in Portikus (Frankfurt, Germany). Since then, Anne Imhof's work has been shown in particular at the Art Institute of Chicago (2019), the Tate Modern (London, 2019), the Hamburger Banhof (Berlin, 2016), Kunsthalle Basel (2016), the MoMA PS1 (New York, 2015) and the Carré d'Art – Musée d'Art Contemporain in Nîmes (2014). She has also taken part in a large number of group exhibitions and festivals, including the MMK Frankfurt (2019 and 2014), Tai Kwun (Hong Kong, 2019), La Biennale de Montréal (2016), the Centre Pompidou (Paris, 2015) and the Palais de Tokyo (Paris, 2015).
Anne Imhof represented Germany at the 57th Venice Biennale in 2017 where she won the Golden Lion for the best national participation, thanks to her performance Faust. She has also been awarded the Absolut Art Award (2017) and the Preis der Nationalgalerie (2015).