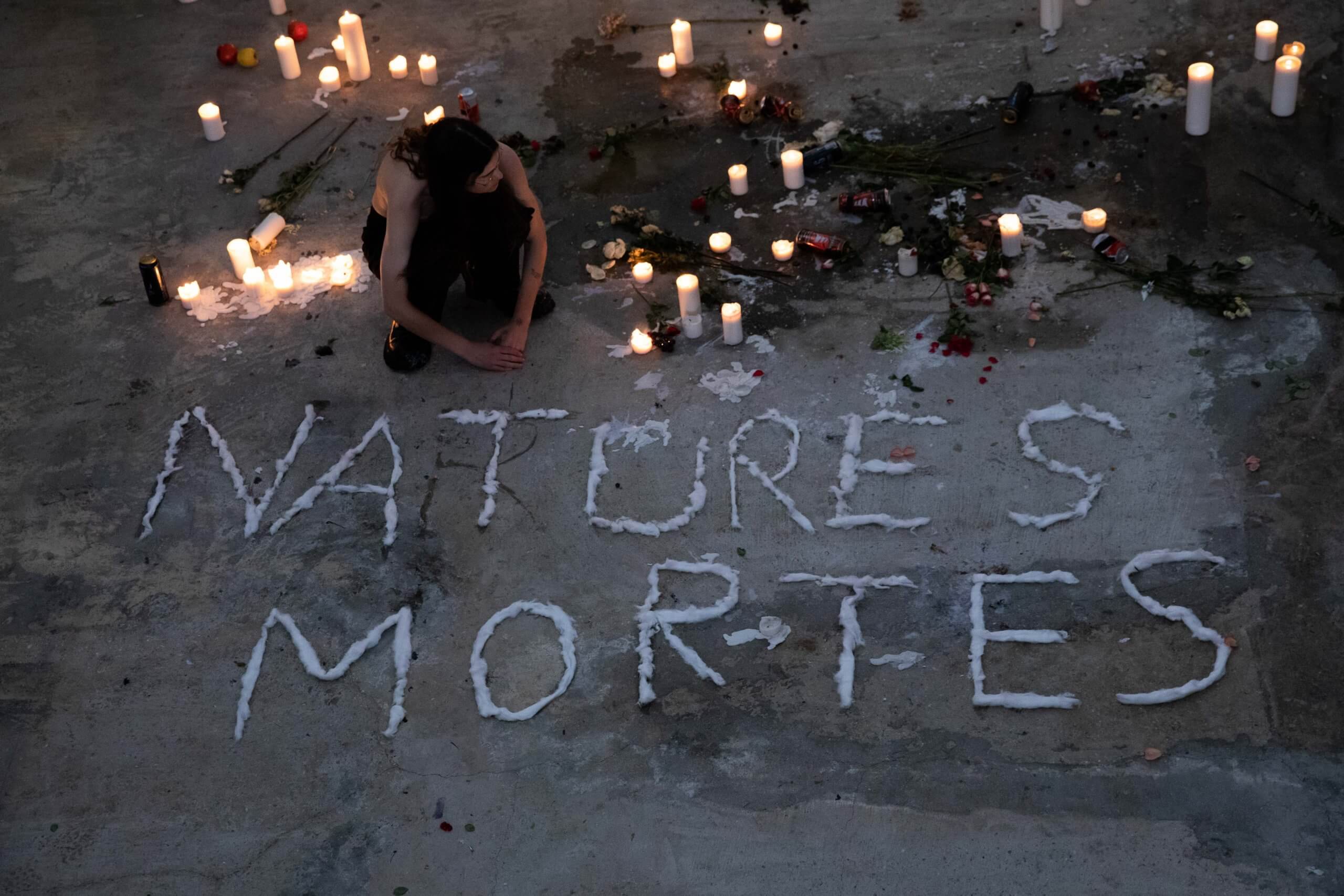 Anne Imhof, Natures Mortes : performance
From 14/10/21 to 18/10/21 and from 21/10/21 to 24/10/21 From 6 to 10 pm  
After having taken over the entirety of the Palais de Tokyo for the creation of the first act of Natures Mortes, her polyphonic, total work of art that fuses space, music, painting, and her own works as well as those of some thirty guest artists, Anne Imhof, who was awarded the Golden Lion at the 2017 Venice Biennial for her opera Faust, proposes a new performance work that captures the pulsations of the fleeting cycle of life and the burning intensity of the present.
These natures mortes – still lifes – serve as memento mori for the here and now and invite us to wander through the interval between the living and the non-living, between shadow and light, past and present, immobility and action, intensity and disillusionment. The performative dimension of Anne Imhof's oeuvre runs throughout the exhibition, the works of art, the sound pieces, the architecture and the bodies present within it, and enters into symbiosis with the space itself. Even when emptied of human presence and devoid of any spectacle, the first act of the exhibition offers a negative portrait of absent bodies and the traces of their presence, making their voices echo endlessly throughout the space.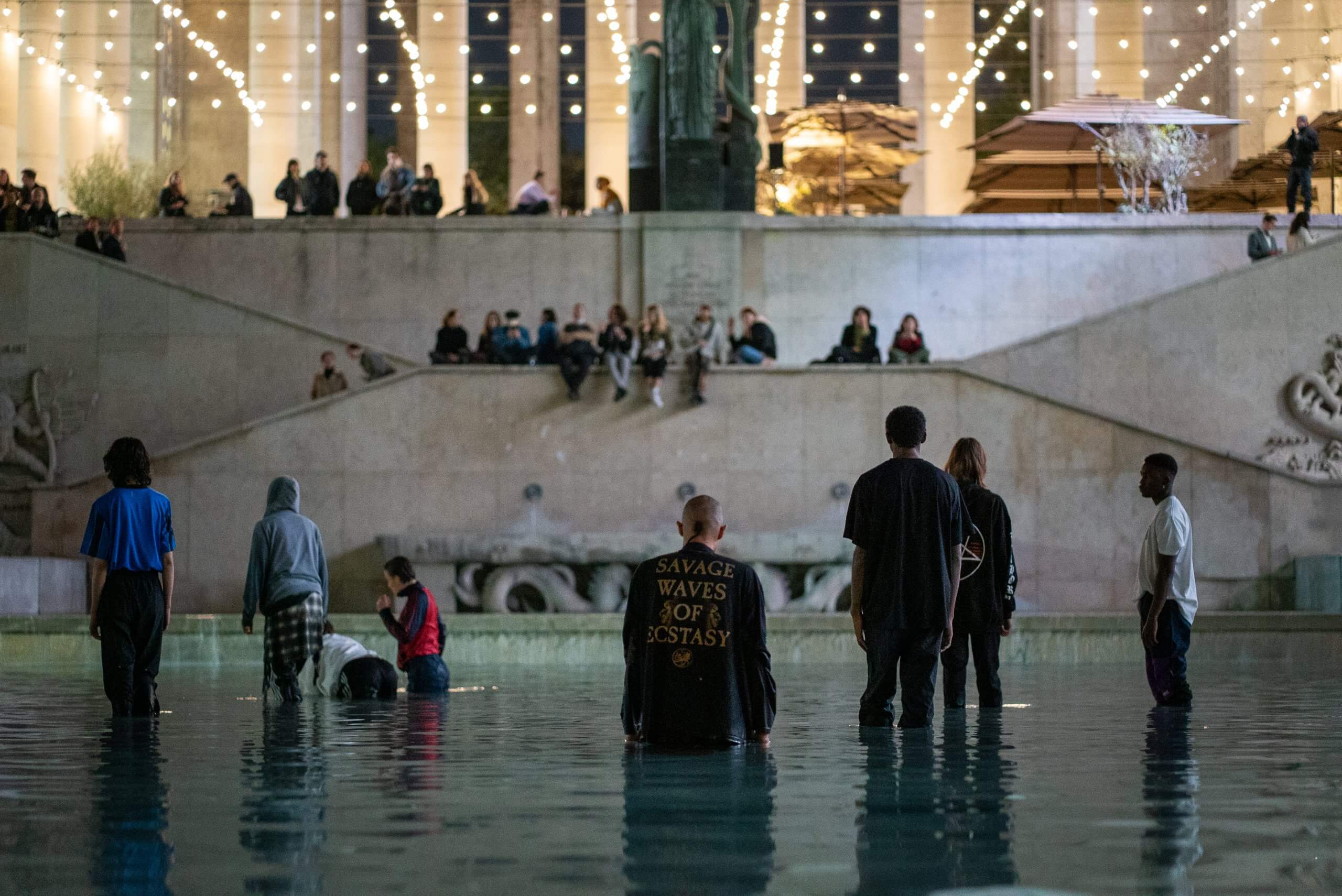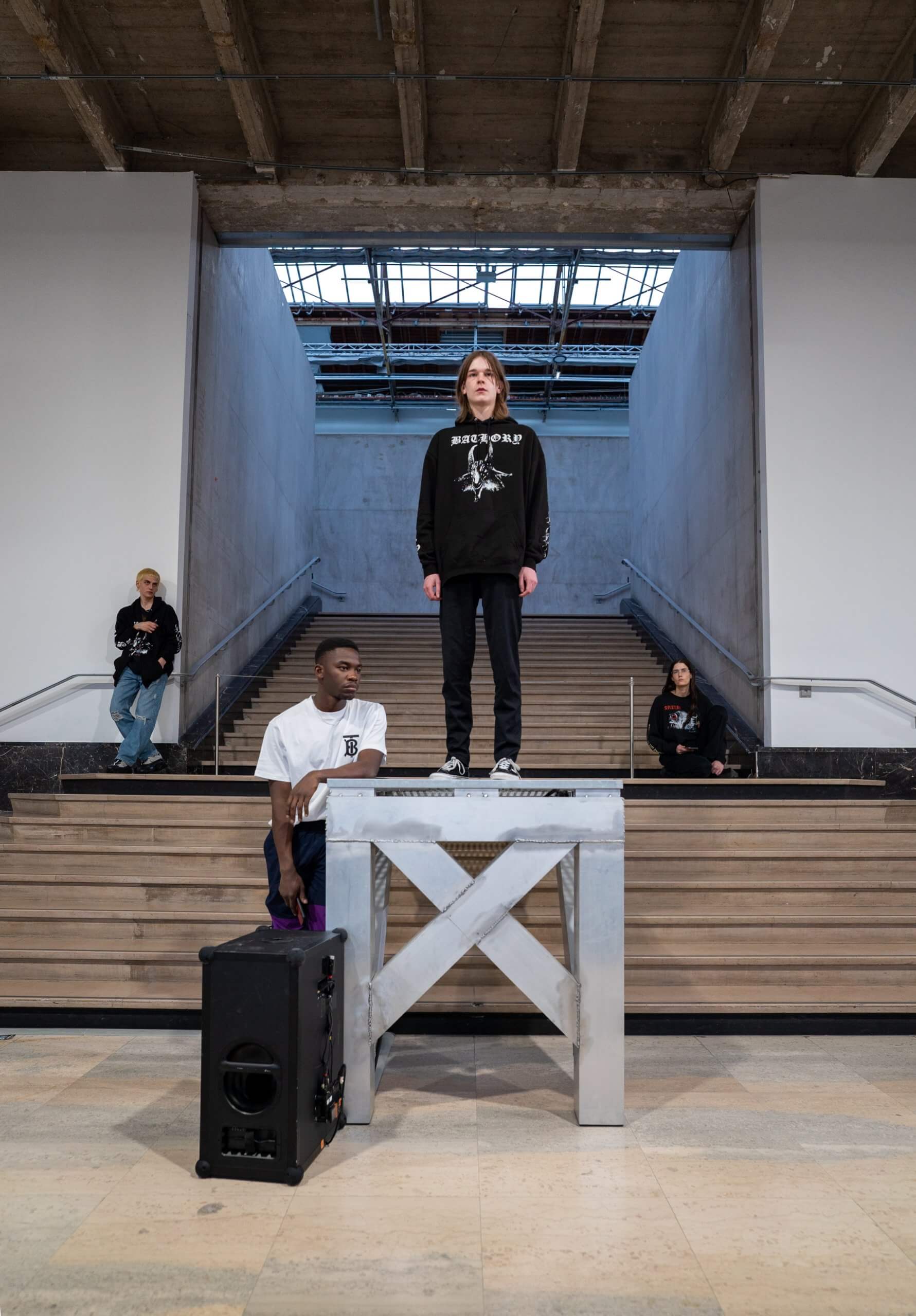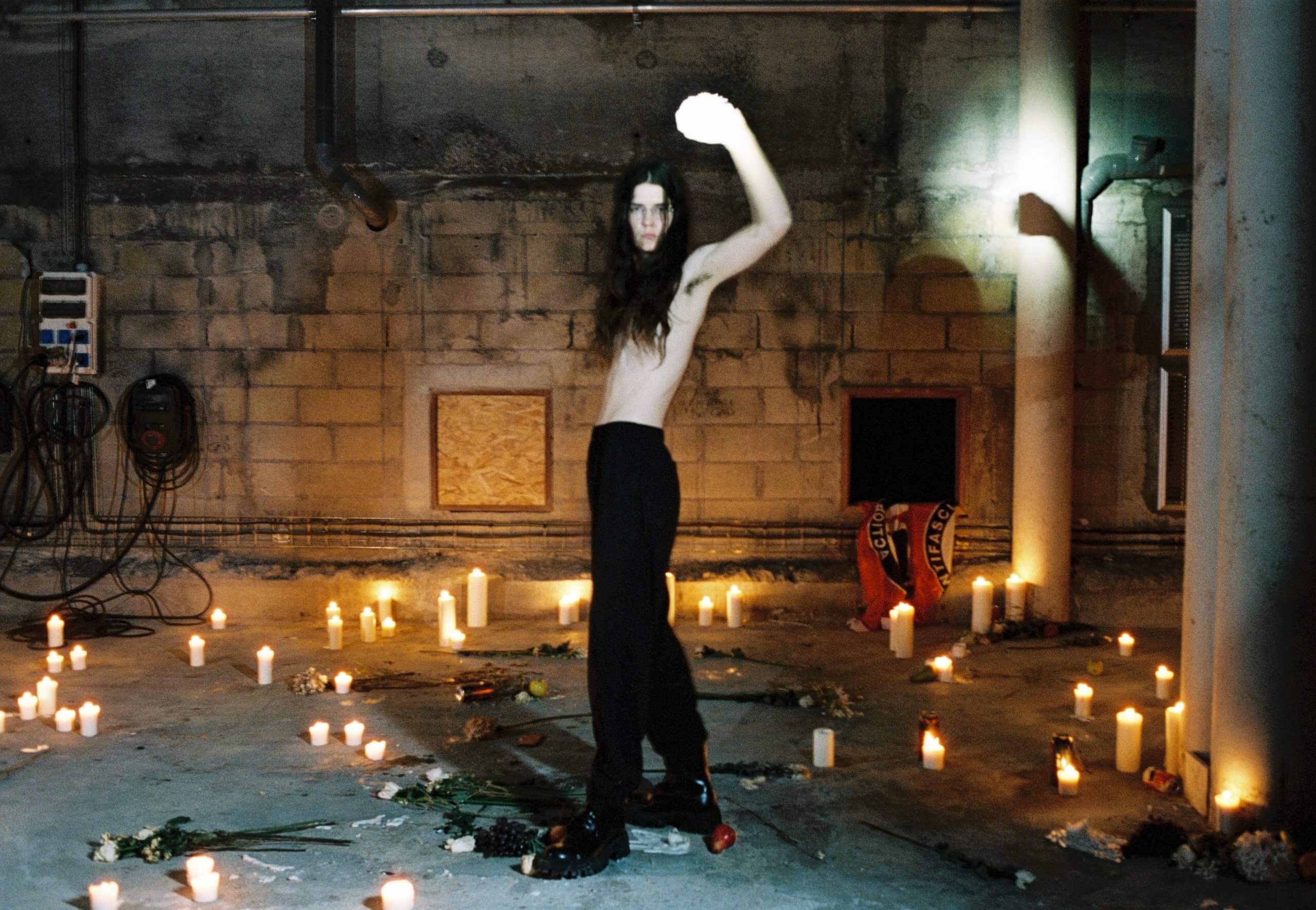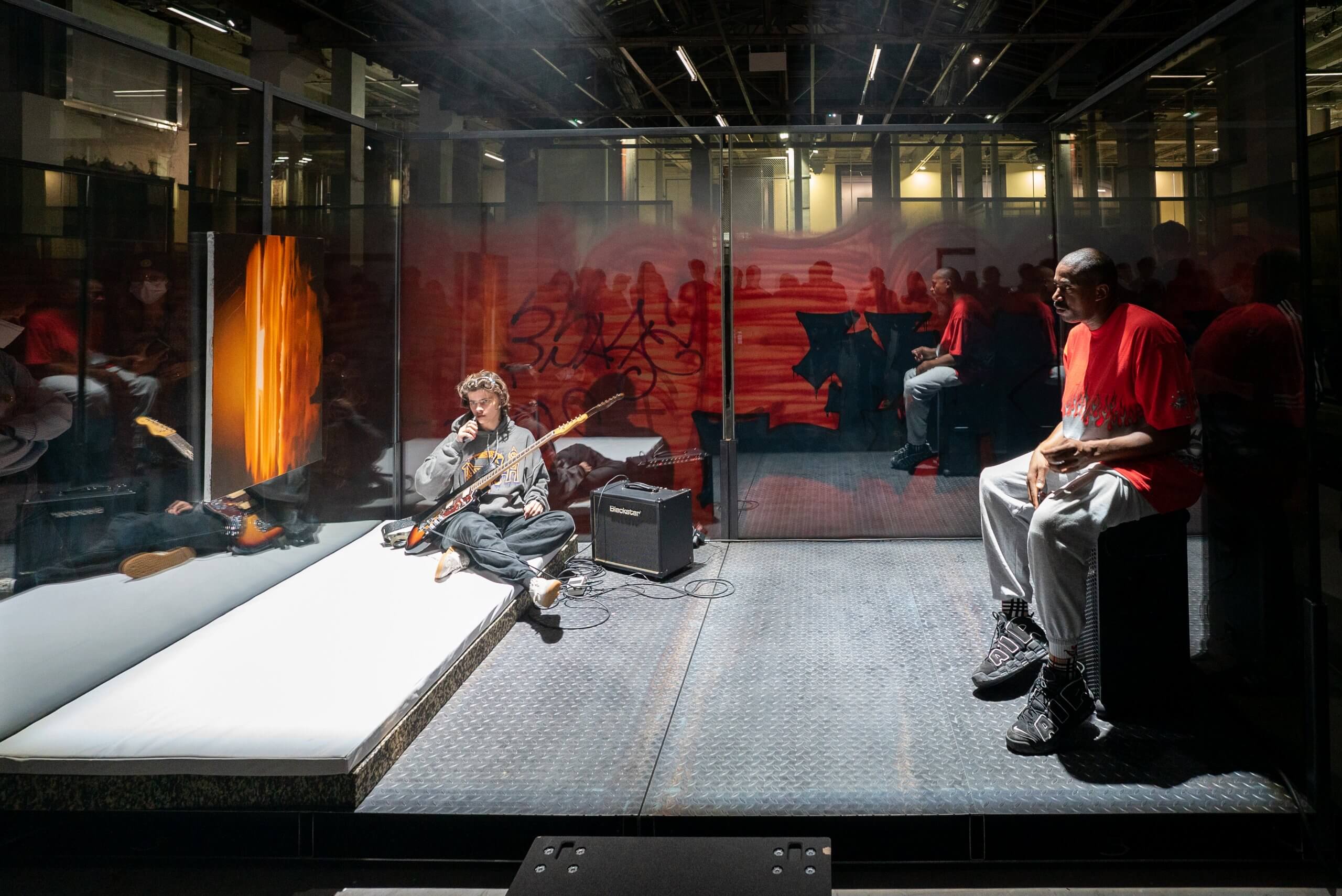 The suspension of the living and the spectral presence of bodies traced out through shadows, cries and melopoeia gather intensity as flows of liberated energy. The performers, long-term collaborators of Anne Imhof, take over the space. The Rooms offer intimate pauses, High Beds and Diving Boards enable bodies to rest before dancing a pas de deux once again, and identities dissolve. Here are ritual processions for a new age, flights where the frontiers between interior spaces and the street are rendered obsolete. The exhibition space, the interior street, and the labyrinth impose their own intrinsic rhythms, channeling bodies and inviting them to slow down, whereas the curved spaces act as race tracks that suggest movement and speed. The rotunda delimits a circular space, a rallying point akin to a crossroads where bodies might gather. Surrounded by Paddings, sculptural accessories that wrap the columns like the limbs of a body preparing themselves for a combat in the ring, they recall one of Anne Imhof's first performances, a boxing match in a strip club in Frankfurt. The space constitutes an open and mobile stage, where other portable stages can in turn be erected and reconfigured as the performers move about. As if animated by the urgency of uprisings to come, bodies gather, blend and collide with one another, before dispersing and escaping, generating new images each instant.
The entirety of the vast organism that is the Palais de Tokyo enters into play, metamorphosing and moving with the alternately centrifugal and centripetal flows generated by these bodies in motion.
"During the performances, the different rooms become a sort of heterotopia, a space of art that blends with a space of dreaming, where everything is transformed into décor and staging." Anne Imhof
Performers of the Core Team
Since 2012, Anne Imhof has surrounded herself with a group of close collaborators, in particular Eliza Douglas, a number of whose paintings are presented in the exhibition; Imhof and Douglas also jointly composed the sound and performance works in the exhibition. The core team of collaborators come from various backgrounds, their diversity allowing for each new piece to be approached from multiple perspectives. Whether dancers, models, philosophers, musicians, or composers, each collaborator brings to the work their own world and their own aesthetic. Together, they rehearse the sequences of movements, each of which is planned down to the slightest detail, and each of which allows for their personalities and sensibilities to be brought together within a framework that makes possible an ongoing dialogue with Imhof. Over the course of the performance, the artist sends instructions via WhatsApp to her group of performers, allowing them to adapt to the dynamics of the spectators present, who in turn become part of the constructed image.
More informations
Eliza Douglas is a painter, performer and musician. She was born in New York and is based in Berlin. She graduated from the Städelschule, Frankfurt am Main in 2017. She has had solo exhibitions at galleries and institutions including the Jewish Museum, New York, Schinkel Pavillon, Berlin, Folkwang Museum, Essen, Galerie Buchholz, New York (with Anne Imhof), Overduin & Co, Los Angeles, and Air de Paris.
As Anne Imhof's principal collaborator, she has composed music, designed costumes and played a central role in Angst (2016), Faust (2017) and Sex (2019). She composed all of the music featured in the exhibition Natures Mortes, and this 2021 exhibition at the Palais de Tokyo also includes a number of her paintings as well as two sound sculptures created with Anne Imhof.
Josh Johnson is an American artist, dancer and choreographer. He studied at the Ailey School in New York, before joining the Alvin Ailey American Dance Theatre. He has also been a member of the Forsythe Company. His performance work has been presented at The Shed, New York, Martin Gropius Bau, Berlin and Säule, Berlin, amongst others, and he has worked closely with artists including Total Freedom, Wu Tsang and Kandis Williams.
Josh has worked with Anne Imhof since 2015, collaborating with her on Forever Rage (2015), Angst (2016), Faust (2017) and Natures Mortes (2021). He is currently appearing in new works with and by Wu Tsang, who invited him to join the Schauspielhaus in Zurich, his first collaboration with a municipal theatre.
Frances Chiaverini was born in Pittsburgh, Pennsylvania, and is a performer, activist and choreographer. She was a member of The Forsythe Company during its final seasons, has worked with Adam Linder in the United States and the United Kingdom, and was a choreographic consultant for Anne Imhof for works presented at the Venice Biennial, Buchholz Galerie, MoMA PS1, Centre Pompidou, Hamburger Bahnhof in Berlin, Art Basel and La Biennale de Montréal. In 2019-20, she was in residency at the Center for Ballet and the Arts at NYU. During her 2016-18 fellowship at Pact Zollverein Choreographic Center, together with writer Robyn Doty she founded Whistle While You Work, a public interface for calling out sexism, discrimination and workplace abuse in the performing arts. She is currently appearing in new works with and by Luisa Saraiva and Tajal Harrell who invited her to join the Schauspielhaus in Zurich, her first collaboration with a municipal theatre.
Mickey Mahar is a Berlin-based American dancer and performer. He frequently collaborates with artists on performance works, including Maria Hassabi, Ryan McNamara and Gillian Walsh. He has worked with Anne Imhof since 2015, including on Deal (2015), Angst (2016) and Faust (2017). He was also choreographic assistant to Anne Imhof for Natures Mortes at the Palais de Tokyo in 2021.