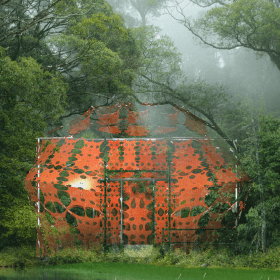 Amakaba
and Olaniyi Studio
Artist and architect
Tabita Rezaire, born 1989 in Paris (France), lives and works in Cayenne (French Guiana).
Yussef Agbo-Ola, born 1990 in Newport News (USA), lives and works in London (UK).
Founded by the artist Tabita Rezaire in the Amazon rainforest of French Guiana, Amakaba is a center for the wisdom of the body, earth, and sky. Through agriculture, womb wisdom and ancestral knowledge, this home for collective healing weaves together art, science and spirituality to harness and preserve the blessings of the forest. Tabita Rezaire brings there her experience as a doula, yoga teacher, and cacao farmer. Founded by the architect and artist Yussef Agbo-Ola, Olaniyi an innovative design studio that questions how art, architecture, and anthropological research can create experimental environments that challenge the way we experience geological conditions and living ecosystems.
For Reclaim the Earth, Amakaba x Olaniyi Studio collaborate to create a contemplative architecture designed to awaken ecological consciousness. Nono: Soil Temple is conceived as a spiritual entity, a sacred space invoking the healing power of soil, and calls on its ability to transform, nurture and release life through birth and death alike. Nono: Soil Temple is Amakaba's first medicinal architecture.
In collaboration with the Serpentines Galleries (London).
Tabita Rezaire is represented by Goodman Gallery (Johannesburg/Cape Town/London).