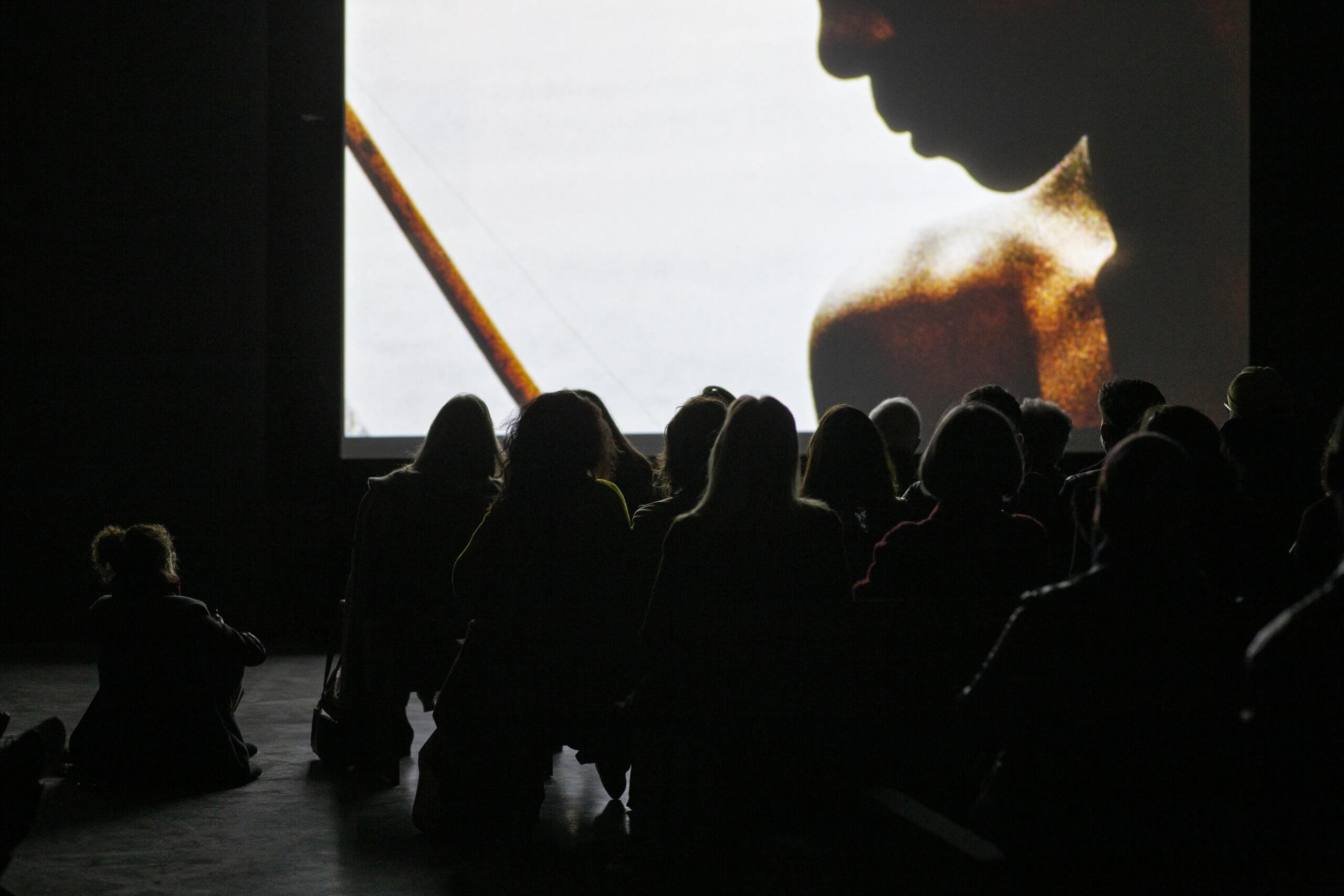 Continuous screenings in the exhibition "Sarah Maldoror: Tricontinental Cinema"
With English subtitles
18h15 — Monangambeee, 1969
16mm, sound, 14 min 28 sec.
A linguistic and cultural misunderstanding leads to the torture of a prisoner in Portuguese colonial jail in Angola. Inspired by a short story by Angolan writer José Luandino Vieira, Sarah Maldoror's first short film is a lyrical testimony supported by the free jazz of the Art Ensemble of Chicago.
18h35 — Fogo île de feu, 1979
16mm, sound, 34 min.
The first of a trilogy of short films shot in Cape Verde and Guinea-Bissau, the documentary, shot in the volcanic landscapes of the island of Fogo and accompanied by a commentary written by the writer and publisher François Maspéro, shows a land scorched by droughts, and its inhabitants learning again to live without colonial occupation.
19h05 — À Bissau le carnaval, 1980
16 mm, sound, 18 min.
Sarah Maldoror films the carnival in Guinea-Bissau, in order to understand how a popular event collectively constructs an imaginary reversing a system of colonial domination.
19h25 — Carnaval dans le Sahel, 1980
16 mm, sound, 28 min (unfinished)
Sarah Maldoror films carnival in the Cape Verde Islands to reveal the role of popular culture in affirming a history of black populations in the struggles against colonialism and racism.
20h00 — Aimé Césaire. Un homme une terre, 1977
16mm, sound, 57 min 17 sec.
Alternating interview segments, shots of Martinique landscapes and scenes from Aimé Césaire's play La Tragédie du roi Christophe (1963), Sarah Maldoror portrays her friend as a politician, a poet and a founder of the Négritude movement.
21h00 — Et les chiens se taisaient, 1978
16mm, sound, 12 min 52 sec.
In the 1950s, Sarah Maldoror and the Compagnie des Griots planned to stage this tragic poem by Aimé Césaire, which is finally interpreted in this short film by Maldoror herself and Gabriel Glissant, in the reserves devoted to black African culture at the Musée de l'Homme in Paris. The Mother tries to save her son Rebel, who is in revolt against enslavement.
21h15 — Un dessert pour Constance, 1980
16mm, sound, 61 min. 26 sec
Two African employees of the Parisian public works department become theoretical experts in French cuisine, and participate in a television game show with the aim of raising funds to help one of their mates return home.
22h20 — Léon-Gontran Damas, 1994
16mm, sound, 1994, 25 min. 30 sec
Sarah Maldoror gives voice to the Guyanese poet Léon-Gontran Damas while drifting between the landscapes in which the writer has lived, from Cayenne to Paris. His peers Césaire and Senghor testify to the poetic force of this founder of Négritude.
22h50 — Louis Aragon, un masque à Paris, 1978
16mm, sound, 19 min. 38 sec
Interviewed by Sarah Maldoror, the surrealist and communist poet Louis Aragon engages in an improvisation and reading exercise amid the photographic montages that cover the walls of his apartment.
23h10 — Ana Mercedes Hoyos, 2008
Vidéo, sound, 2008, 12 min. 52 sec.
Through a portrait of the visual artist Ana Mercedes Hoyos, Sarah Maldoror highlights the African roots of Colombian culture in its link with slavery, issues also raised by the artist's work.
23h25 — Toto Bissainthe, 1984
16mm, sound, 4 min. 30 sec.
Sarah Maldoror films Haitian singer Toto Bissainthe on stage and behind the scenes. Maldoror and Bissainthe met in Paris in the mid-1950s and together founded the Compagnie des Griots.
23h30 — Wifredo Lam, 1980
16mm, sound, 4 min.
Produced on the occasion of an exhibition of paintings by Wifredo Lam at the Artcurial gallery in Paris in 1980.
23h35 — Portrait d'une femme africaine, 1985
Vidéo, sound, 6 min.
Portrait broadcast on the television program Mosaique, devoted to immigrant cultures. A young Senegalese woman, cook in a workers' hostel, evokes her desire to travel throughout France, and protests against the designation of immigrant.