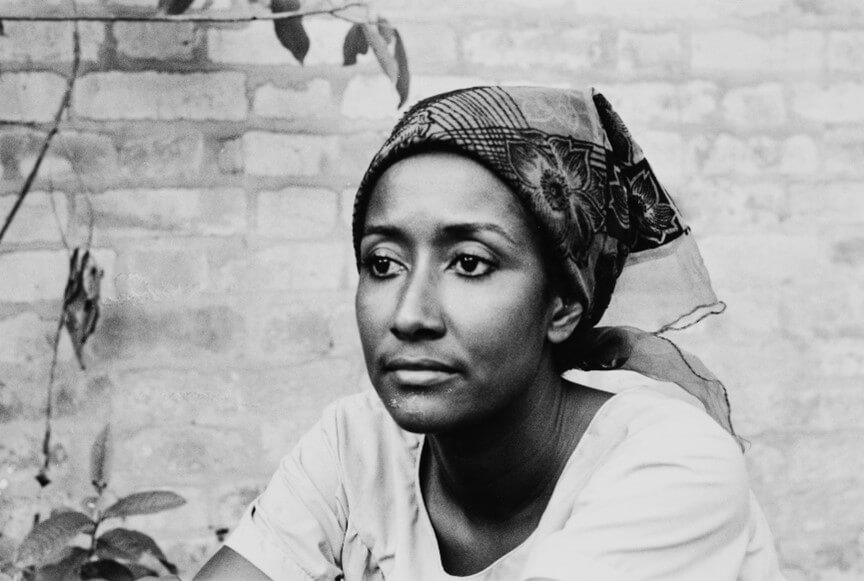 Sambizanga (1972) ─ Projection et discussion
Inaccessible for many decades, Sarah Maldoror's film "Sambizanga" is shown at the Palais de Tokyo for its first screening in France since its restoration.
As part of the "Six continents, or more" season, the exhibition "Sarah Maldoror: tricontinental cinema" welcomes you for a film cycle, as well as a musical performance and poetry. To open this cycle of events, join us on November 27th at 4pm for a screening of Sarah Maldoror's "Sambizanga," followed by a conversation with her daughters Annouchka de Andrade and Henda Ducados.
Sambizanga (1972 ; 102 MIN)
Angola 1961. Domingos Xavier is taken away by colonial authorities, imprisoned and tortured. His wife Maria goes in search of him. This film denounces the colonial oppression and allowed for the emergence of resistance speech at the origins of the MPLA movement (Movement for the Liberation of Angola). Inaccessible during long decades, Sambizanga has been restored in 2021 by The Film Foundation's World Cinema Project and Cineteca di Bologna at l'Image Retrouvée in association with Éditions René Chateau and the family of Sarah Maldoror. Funding provided by Hobson/Lucas Family Foundation. This restoration is part of the African Film Heritage Project, an initiative created by The Film Foundation's World Cinema Project, the Pan African Federation of Filmmakers and UNESCO.
Annouchka de Andrade & Henda Ducados
Annouchka de Andrade is the director of the International Film Festival of Amiens, with more than 30 years of experience in the international cultural cooperation. She has worked with a strong focus on film creation, particularly in the Andean countries. Over the past ten years, she has worked closely with her mother Sarah Maldoror. Now, alongside her sister Henda Ducados, they are developing projects to value, preserve and save the work of their parents, Sarah Maldoror and Mário de Andrade, a couple whose artistic and political commitment marked the 20th century.
© 1972 Isabelle Films / René Château
© Annouchka de Andrade et Henda Ducados