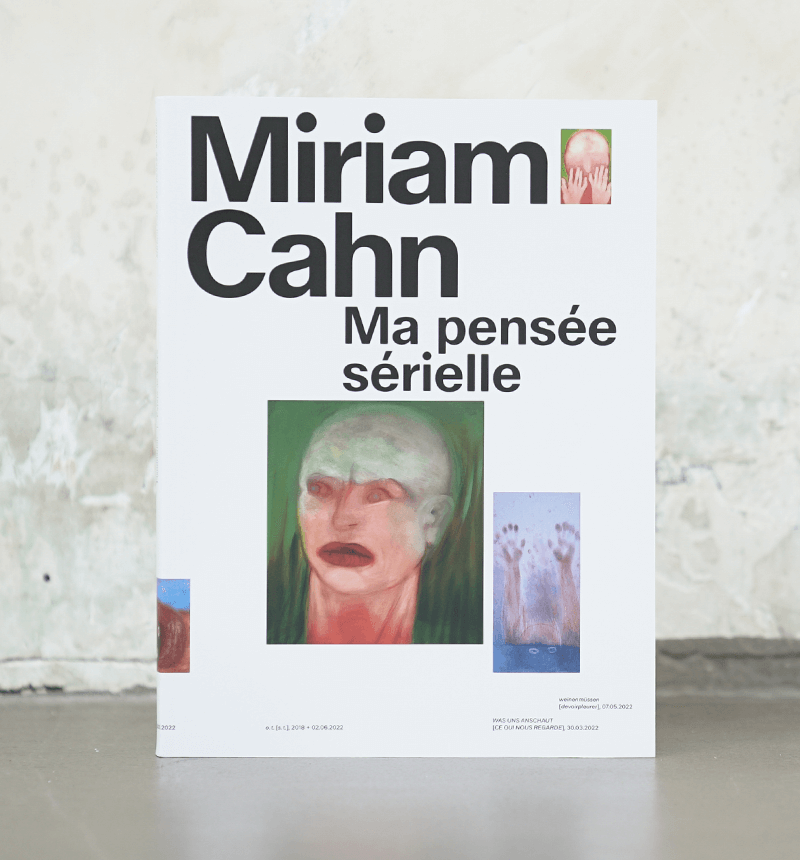 Miriam Cahn, Ma pensée sérielle
On sale at the Palais de Tokyo's bookstore
Published by Flammarion in partnership with the Palais de Tokyo
Shaped by the emergence of second-wave feminism, Miriam Cahn's artistic practice confronts the body in its materiality and brings us face to face with current socio-political concerns. At once haunting and ambiguous, Cahn's work explores different aspects of our bodily reality – abjection, vulnerability, ugliness – and encourages us to confront events that we are so often willing to ignore. To do so, she draws upon a range of contemporary images that picture our humanity and develops reflections on systems of violence, power, nuclear power, feminism and sexuality.
The publication Miriam Cahn, Ma pensée sérielle [My Serial Thought], which is richly illustrated, accompanies the first major exhibition of this Swiss artist in France. It features a collection of texts which, rather than seeking to analyse or explain her work, allow the artist herself to speak or enable others to respond to her work. With texts by Marta Dziewańska and Emma Lavigne, co-curators of the exhibition, Amin Alsaden, Paul B. Preciado, Iryna Tsilyk, two interviews by Miriam Cahn with Patricia Falguières, Elisabeth Lebovici and Nataša Petrešin-Bachelez and with Clara Schulmann, and a selection of recent writing by the artist.
About the authors:
– Amin Alsaden is a curator, educator and researcher.
– Marta Dziewańska is curator at the Kunstmuseum Bern. She is co-curator of the exhibition "Miriam Cahn, Ma pensée sérielle".
– Patricia Falguières, Élisabeth Lebovici and Nataša Petrešin-Bachelez co-organise the seminar "Something You Should Know: Artists and Producers Today", where Miriam Cahn was invited to speak on 12 November 2014.
– Emma Lavigne is an art historian and Director of the Pinault Collection since 2021. She is co-curator of the exhibition « Miriam Cahn, Ma pensée sérielle ».
– Paul B. Preciado is a Spanish writer, philosopher, curator and activist.
– Clara Schulmann has been writing for over a decade.
– Iryna Tsilyk is a Ukrainian film director and writer.
See more
About the book
Graphic design: Léna Araguas & Alaric Garnier
192 pages; 21 x 28 cm
Retail price: 39 euros incl. VAT
ISBN: 978-2-0804-1362-8
This publication has been supported by the Jocelyn Wolff Gallery (Romainville) and the Meyer Riegger Gallery (Berlin, Karlsruhe, Basel).