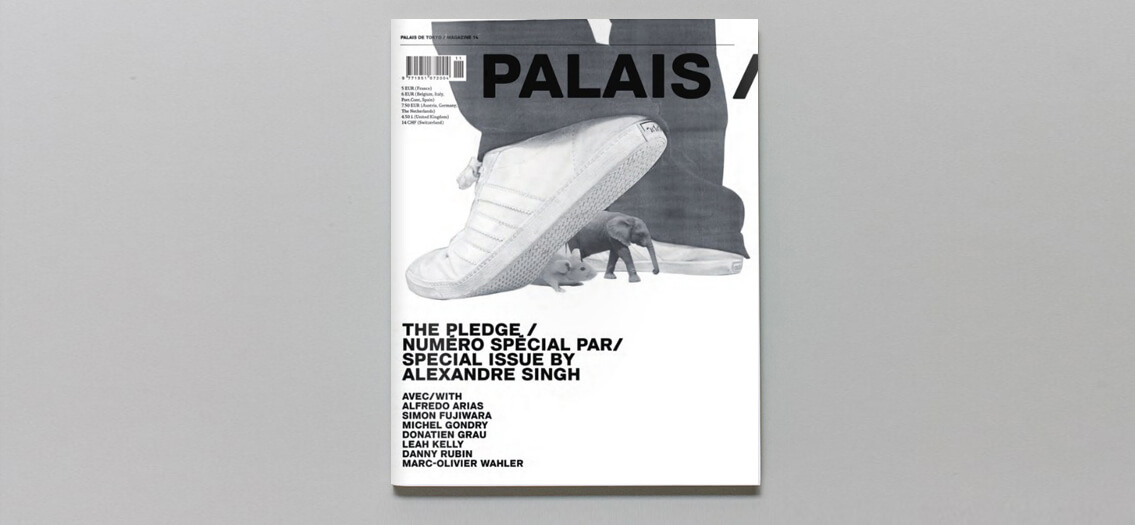 Magazine Palais #14
Special issue created by Alexandre Singh, with Arias, Simon Fujiwara, Michel Gondry, Donatien Grau, Leah Kelly, Danny Rubin, Marc-Olivier Wahler
In a magic trick, what we see is banal while the unseen becomes spectacular. The magician proposes a way of perceiving, of telling a story, and his trick usually unfolds in three stages. The first stage, called the pledge, is when the magician presents the audience with an ordinary object, for example a bird in a cage. The second stage, known as the turn, implies the disappearance of what was previously there; the cage and the bird vanish from sight, to the spectators' amazement. This is followed by the third and final step, the impossible feat, called the prestige, wherein one of the objects reappears: the bird miraculously emerges from the magician's pocket. Since 2006, the Palais de Tokyo's exhibition program has been conceived based on this structure, particular not only to the world of magic, but also to a certain type of narrative.
Chapter after chapter, the Palais de Tokyo has been building a narrative in which what is visible is ordinary while what is invisible becomes spectacular, thus suggesting that every disappearance may promise a reappearance, a "prestige" to come, or the beginning of a new story as you leave the exhibition…
This issue of PALAIS / reexamines this fundamental notion on which the Palais de Tokyo's identity is founded and gives the artist Alexandre Singh carte blanche. Investigating this theme through interviews with artists, researchers, writers, stage and film directors, and scientists, the gifted storyteller has created THE PLEDGE, a story based on that first step in a magic trick, artfully manipulating words and imagery while playing with conventional narrative techniques and literary genres.
See more
About
Bilingual (french & english)
96 pages in color
ISSN 1951-672X
ISBN 978-2-84711-041-8
5 € (France)
6 € (BE, IT, SP, Port.Cont.)
7.50 € (DE, NL)
£ 4.50 (UK),
14 CHF (CH)
Subscribe to the Magazine  Subscribe to the Magazine  Subscribe to the Magazine  Subscribe to the Magazine  Subscribe to the Magazine  Subscribe to the Magazine  Subscribe to the Magazine  Subscribe to the Magazine  Subscribe to the Magazine  Subscribe to the Magazine  Subscribe to the Magazine 

Subscribe to the Magazine  Subscribe to the Magazine  Subscribe to the Magazine  Subscribe to the Magazine  Subscribe to the Magazine  Subscribe to the Magazine  Subscribe to the Magazine  Subscribe to the Magazine  Subscribe to the Magazine  Subscribe to the Magazine  Subscribe to the Magazine