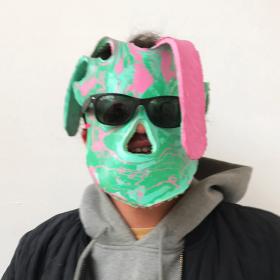 Romain Vicari was born in 1990 in Paris, and lives and works between Paris and Sao Paulo. A graduate with the congratulations of the jury from ENSA Dijon (2012) and ENSBA Paris (2014), Romain Vicari is a winner of the Prix Découverte des Amis du Palais de Tokyo (2016).
His work has appeared in several solo and group shows, in particular at Les Magasins Généraux (Pantin, 2018), Les Ateliers Vortex (Dijon, 2017), Le Parc Saint Léger, Centre d'Art Contemporain (Dorne, 2017), the Galerie Bugada & Cargnel (Paris, 2017), the Galerie Air Project (Geneva), the Villa Medicis (Rome, 2017), the Galerie Double V (Marseille, 2017), the artist-run-space Sans Titre (2016, Paris), the Galerie Ceysson & Bénétière (Saint Etienne, 2016), the Galerie Jeanroch Dard (Brussels, 2015) or else La Friche Belle de Mai (Marseille, 2015) and at the CAC La Traverse (Alfortville, 2015).
Romain Vicari is participating as a curator in the project produced by Le Collective in an abandoned church in Marseille during Art-O-Rama (September 2018).