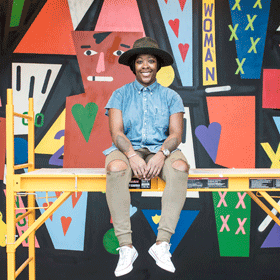 Nina Chanel Abney was born in Chicago in 1982, and lives and works in New York.
A graduate of Augustana College (Rock Island, IL, 2004) and Parsons School of Design (NY, 2007), her work has been acquired by the Brooklyn Museum, the Bronx Museum, the Rubell Family Collection and the Burger Collection (Hong Kong). Her work was the subject of a joint exhibition by the Jack Shainman Gallery and the Mary Boone Gallery in New York in 2017. Her first retrospective, 'Nina Chanel Abney: Royal Flush', was presented at the Nasher Museum of Art at Duke University in February 2017, and will go on display next year at the Chicago Cultural Center (February-May 2018) and the California African Museum and the ICA in Los Angeles (September-January 2019).
Nina Chanel Abney is represented by the Jack Shainman Gallery (New York).