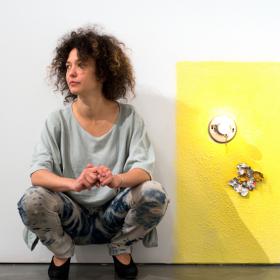 Mika Rottenberg was born in Buenos Aires in 1976. After studying in Israel, the artist graduated from Columbia University in New York, where she still lives and works today. Since the early 2000s, several institutions like PS1 Contemporary Art Center (New York, 2004), San Francisco Museum of Modern Art (2010), De Appel (Amsterdam, 2011), or Magasin 3 (Stockholm, 2013) have dedicated solo shows to her work.
The artist also regularly takes part in group exhibitions and important artistic events such as the Taipei Biennial in 2014 and the Venice Biennial in 2015.
Her work is visible in numerous public and private collections, in New York (Whitney Museum of American Art, Solomon R. Guggenheim Museum, Museum of Modern Art) but also in Europe (Astrup Fearnley Museum of Modern Art, Oslo; Julia Stoschek Collection, Düsseldorf; La maison rouge, Paris; several French regional funds for contemporary art) and in other parts of the world (National Gallery of Victoria, Melbourne; Murakami Collection, Tokyo; Tel Aviv Museum of Art, Tel Aviv). She is represented by the galleries Andrea Rosen in New York and Laurent Godin in Paris.