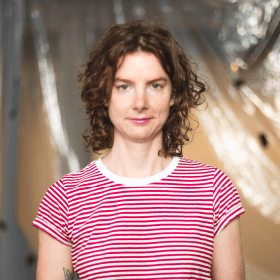 Born 1979 in Auckland (Aotearoa New Zealand), lives and works in Texas (USA).
A keen-eyed observer of the world around her, Kate Newby is a gleaner and collector of objects, materials and fragments picked up during her wanderings. She is especially attentive to the outdoor environment: light, rain, sun, and wind thus become active components of her work. Speculating about the nature of sculpture and its connection with the natural world, the artist mostly uses ceramics and glass, from which she produces works and architectural interventions. Close observation of her works demands a special attention, a spatial commitment that triggers a poetic encounter and a rediscovery of everyday objects.
Kate Newby has adopted a craft approach to local materials, in relationship with the institution inviting her. She nourishes herself with the most intimate details, from the informal uses of the public space to the tiniest glitches in the architecture. Her works take care of the building that hosts them, they reappropriate the space and call for particular attention. The artist imagines several site-specific gestures in and out of the Palais de Tokyo, dialoguing subtly with its monumentality while blurring the boundaries between inside and outside.
Kate Newby is represented by the galleries Art: Concept (Paris), The Sunday Painter (London), Cooper Cole (Toronto), Fine Arts (Sydney), Michael Lett (Auckland).