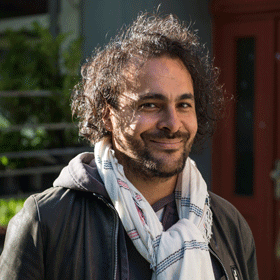 Kader Attia (b. 1970, France, lives in Berlin and Algiers) grew up in both Algeria and the suburbs of Paris, and uses this experience of living as a part of two cultures as a starting point to develop a dynamic practice that reflects on aesthetics and ethics of different cultures. He takes a poetic and symbolic approach to exploring the wide-ranging repercussions of Western modern cultural hegemony and colonialism on non-Western cultures, investigating identity politics of historical and colonial eras, from Tradition to Modernity, in the light of our globalized world, of which he creates
a genealogy.
For several years, his research focuses on the concept of "repair", as a constant in Human Nature, of which the modern Western Mind and the traditional extra-Occidental thought have always had an opposite vision. From Culture to Nature, from gender to architecture, from science to philosophy, any system of life is an
infinite process of repair.
In 2016, Kader Attia founded La Colonie, a space in Paris to share ideas and to provide an agora for vivid discussion. Focusing on de-colonialization not only of peoples but also of knowledge, attitudes and practices, it aspires to de-compartmentalize knowledge by a trans-cultural, trans-disciplinary and trans-generational approach. Driven by the urgency of social and cultural reparations, it aims to reunite which has been shattered, or drift apart.
Recent exhibitions include the 57th Venice Biennial and solo shows at MMK, Francfort; Musée Cantonal des beaux-arts de Lausanne; Middelheim Museum, Antwerp; Beirut Art Center; Whitechapel Gallery, London; KW Institute for Contemporary Art, Berlin; or Musée d'art moderne de la Ville de Paris. Kader Attia's works have been shown at the Biennale of Dakar; documenta 13 in Kassel; MoMA, New York; or Tate Modern, London.
Kader Attia is the winner of the Prix Marcel Duchamp 2016, the Joan Miro Prize (Fundacio Joan Miro, Barcelona, 2017) and the Yanghyun Art Prize (Yanghyun Foundation, Seoul, 2017).