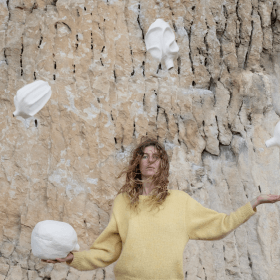 Born in 1989 in the Luberon, Hélène Bertin lives and works in Cucuron.
Her works show an attention to objects and practices that unite everyday uses and plastic research. Her work process is built on encounters with enthusiasts, artists, farmers and craftsmen. Hélène Bertin assembles with ease and malice ways of living and know-how. This enameling of object typologies and postures creates a collective narrative in her exhibitions, while her books carry the individual stories of marginal personalities. It is the encounter with the life and work of Valentine Schlegel that forges in her this vision of art and of the possible cooperation between the "kingdoms" of each person.
Hélène Bertin has presented her work in solo exhibitions, including "Tohu-Bohu" (2021, Le 19 CRAC, Montbéliard) and "Cahin-caha" (2020, Le Creux de l'enfer, Thiers) and realized the exhibitions dedicated to Valentine Schlegel "Tu m'accompagneras à la plage" (2019, Crac Occitanie, Sète) and "Cette femme pourrait dormir dans l'eau" (2017, CAC Brétigny). She has notably designed the books Valentine Schlegel: je dors, je travaille (2017, graphic design Coline Sunier and Charles Mazé, editions future ), Le chant de la Piboule, conte (2019, graphic design Lionel Catelan, edition La Nòvia) and Coucou cougourdon (2021, interview with Yussuf Henni, graphic design Tom Henni).
Hélène Bertin is nominated for the 23rd Pernod Ricard Foundation Prize (2022).