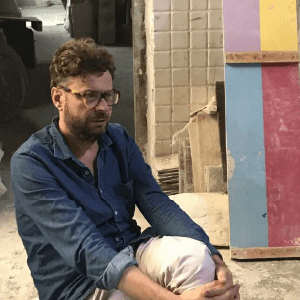 Born in 1971 in Lille, lives and works in New York.
Guillaume Leblon studied at the École nationale supérieure des beaux-arts de Lyon until 1997, before being a resident at the Rijksakademie in Amsterdam in 1999-2000.
He has been living in New York and Guadalajara, Mexico, since 2015. He is considered one of the most important French artists of his generation.
His most recent solo exhibitions were held at Galerie Nathalie Obadia, Brussels and Paris (2022), Galerie ProjecteSD, Barcelona (2019), SMAK, Ghent (2018); Contemporary Art Gallery, Vancouver (2016); Friche La Belle de Mai, Marseille (2015); Institut d'Art Contemporain, Villeurbanne (2014); MASS MoCA, North Adams, USA (2013); Musée Régional d'Art Contemporain, Sérignan (2012) ;Fondation d'entreprise Ricard, Paris (2011) ; Le Grand Café-centre d'art contemporain, Saint-Nazaire (2010) ; Mudam, Luxembourg (2009); CGAC, Santiago de Compostela (2008).
He has also participated in numerous group exhibitions, notably at the Centre Pompidou-Metz, Des mondes construits (2020); at the Cleveland Triennial, Cleveland, USA (2018); at the Mucem, Marseille, Or: Un voyage dans l'histoire de l'art au fil de l'or (2018); at the DuSable Museum of African American History, Chicago, USA, Palais de Tokyo hors les murs programme (2017); at La Verrière, Fondation d'entreprise Hermès, Brussels, Poésie balistique (2016); at the Punta della Dogana, Venice (2016); at the Centre Pompidou, Paris (2016); at the Lyon Biennale, Une terrible beauté est née (2011); at the Carré d'Art de Nîmes, Pour un art pauvre (2011); at the Centre Pompidou Metz, Constellation (2009).
He is represented by the galleries Nathalie Obadia (Paris/Brussels), Carlier Gebauer (Berlin-Madrid) and ProjecteSD (Barcelona).