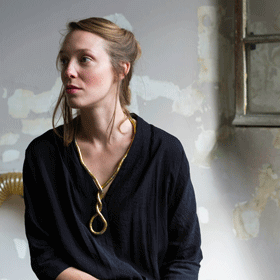 Daiga Grantina (b. 1985 in Riga, lives and works in Paris) studied at the Academy of Fine Arts Vienna and at HFBK in Hamburg. She has been invited by Vincent Honoré to participate in the forthcoming edition of the BALTIC Triennial in 2018, and her work will also feature this year in the exhibition Crash Test curated by Nicolas Bourriaud at La Panacée in Montpellier. Alongside her project at Palais de Tokyo, her work features in a joint exhibition with Athena Vida at Galerie Joseph Tang in Paris from February to March 2018.
Daiga Grantina's work has been the subject of several monographic exhibitions, most recently at Kunstverein Hamburg (Germany, 2017), at Kunsthaus Bregenz (Austria, 2016) and at kim? Contemporary Art Center in Riga (Lithuania, 2016). Her work has also featured at the Vienna Biennial (Austria, 2017), at the Museum of Modern Art of Belgrade (Serbia, 2017, curated by Julie Boukobza and Simon Castets), at the Kunsthalle Mainz (Germany, 2017) and at Bergen Kunsthall (Norway, 2016).
Daiga Grantina is represented by Galerie Joseph Tang in Paris.