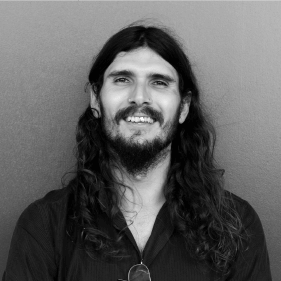 Born 1982 in Moranbah on the lands of the Barada Barna people (Australia), lives and works in Brisbane on the lands of the Turrbal and Jagera people (Australia).
Installations, sculptures, paintings, or site-specific interventions: D Harding's works are imbued with the history of Queensland's Aboriginal peoples. Recent bodies of work have sought to further the cultural inheritances of Bidjara, Ghungalu and Garingbal artforms including those originating in rock art traditions. The cultural landscape across Harding's ancestral territories and the spiritual and philosophical sensibilities of their communities inform what he describes as cultural continuum.
As a result of numerous stays in Central Queensland, D Harding creates wool felt 'blankets', in the lineage of the ancestral cloaks made of possum skin. Saturated with earth pigments and gum Arabic, these felt works become the vessels carrying the pigments around the world. Once rehydrated, the wool revives and releases its contents. Site specifically produced, the wall painting laden with the lands of their ancestors guides visitors to the exhibition space.
D Harding is represented by Milani Gallery (Brisbane).