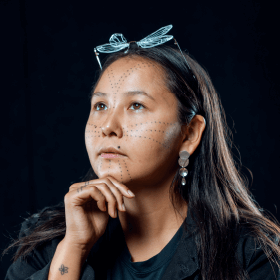 Born 1991 in Kuujjuaq (Canada), lives and works in Montreal (Canada).
The Inuk artist, film director and curator asinnajaq practices video, digital illustration, photography and installation, and sees collaboration and collective research with her family and other artists as crucial to her creative process. Through her work she retraces historical representations of the polar circle region, deconstructing the standard, erroneous perception of the Arctic landscape as frozen and sterile. Delving into indigenous knowledge and giving a voice to those who had been silenced, she presents a land full of life.
The exploration of her cultural heritage and her wide-ranging research at the National Film Board of Canada have enabled her to analyse the evolution of representations, ritual practices and the history of Inuit art. These archival studies have given rise to works like the performance video Rock Piece (Ahuriri edition) (2018), which retraces the links between the body and land and explores the many meanings of such ceremonial gestures as the arranging of stones on somebody's body to symbolise the cycle of life and death.