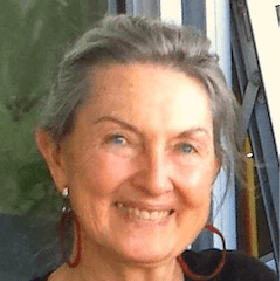 Lives and works in Sydney (Australia).
Australian sociologist and activist, Ariel Salleh has published numerous texts on environmental ethics, political ecology, ecosocialism and ecofeminism. She is the author of Ecofeminism as Politics–Nature, Marx and the Postmodern (1997, second edition 2017), a seminal work and first book to offer a joined-up framework for green, socialist, feminist and decolonial thinking. She introduces political concepts such as an "embodied materialism" and the "meta-industrial class" to analyse hands-on labour and ecologically literate epistemology shared by women, peasants, and Indigenous peoples in relation to nature.
Ariel Salleh is a Foundation Member of the Global University for Sustainability (Hong Kong); Visiting Professor in Humanities at Nelson Mandela University (South Africa); former Honorary Associate in Political Economy, University of Sydney and Fellow in Post-Growth Societies, Friedrich Schiller University Jena (Germany). She taught in the School of Social Ecology at the University of Western Sydney for many years.