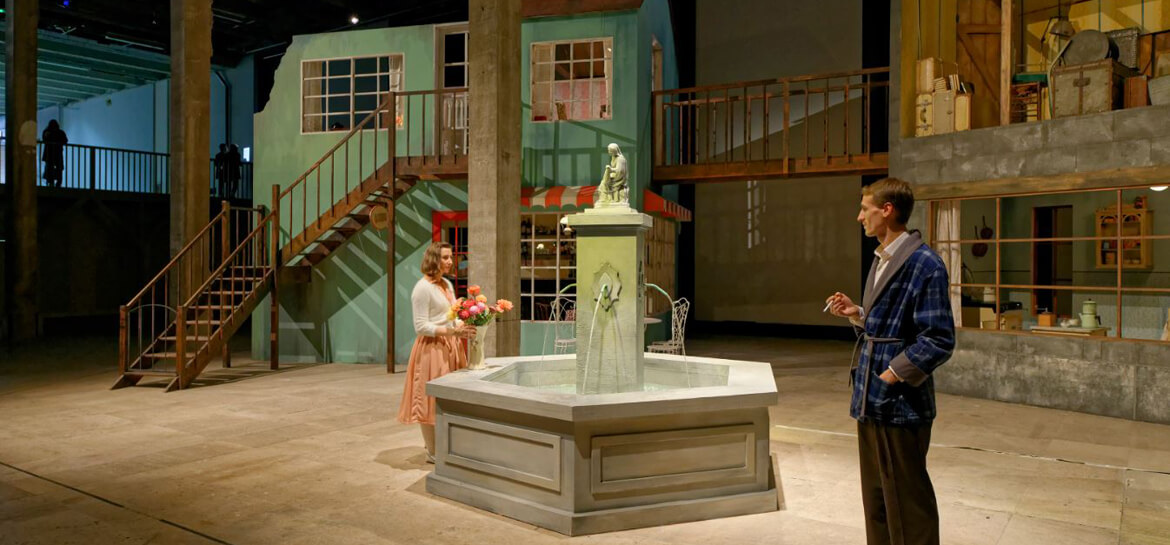 Ragnar Kjartansson
Seul celui qui connaît le désir
From 20/10/2015 to 09/01/2016
"Sometimes you need to add a little theatre to life and vice versa." (1) — Ragnar Kjartansson
Palais de Tokyo is presenting the first solo show in France of the Icelandic artist Ragnar Kjartansson (born in 1976, lives and works in Reykjavik) whose singular work is a cross between performance and cinema, sculpture and opera, plein air painting and music. In a poetic and surprising manner, the exhibition portrays everyday desires, longing for the transcendent, blurring the boundary between mundane and sublime.
Ragnar Kjartansson has created several original pieces for his show at Palais de Tokyo. These include Bonjour (2015), a performance which will repeat, during the entire duration of the show, the fleeting encounter between a man and a woman in a life-size setting, and Scenes from Western Culture (2015), a video installation made up of a set of cinematic and idyllic portraits, which simultaneously celebrate and deplore the desires produced by western culture,  or Only the one who knows desire (2015), a large scale free standing paintings of icy mountains and rocks, in the tradition of theatre set painting.
The exhibition project conceived by Ragnar Kjartansson for Palais de Tokyo follows a meaningful series of experiences inspired by World Light (1937-1940), the Nobel laureate Halldór Laxness' well-known four volume epic novel. Considered as the masterpiece of this leading figure of 20th century Icelandic literature, as well as some sort of bible for a lot of artists in the country, the book tells the tragic and eminently romantic story of a cursed poet.
For the title of Ragnar Kjartansson's show, Palais de Tokyo has adopted the name of a poem by Goethe. A complex object, at the crossroads between literature and music, this poem has been variously adapted and translated. Coming from a novel of apprenticeship, it became a musical composition by Tchaikovsky (1869), then a Frank Sinatra song in 1949.
A monographic book published by Palais de Tokyo is accompanying this show.
Curator : Julien Fronsacq
(1) Ragnar Kjartansson, interview by Markús Thór Andrésson "Ragnar Kjartansson – A Simple Act of Forgiveness", Flash Art, Nr. 281, November-December 2011, pp. 78-81.
Biography
Ragnar Kjartansson was born in 1976 in Reykjavik (Iceland), where he lives and works. He studied at the Iceland Academy of the Arts and at the Royal Institute of Art in Stockholm and he represented Iceland at the 2009 Venice Biennale. He has won major international recognition in the past few years and his work has been widely exhibited in a number of solo shows in Europe and in the United States. Following his second appearance at the Venice Biennale in 2013 with his project "S.S. Hangover", he presented "The Visitors" at the ICA in Boston and at the Guggenheim in Bilbao in 2014. A large-scale solo exhibition titled "Me, My Mother, My Father, and I" was also staged in 2014 at the New Museum in New York.