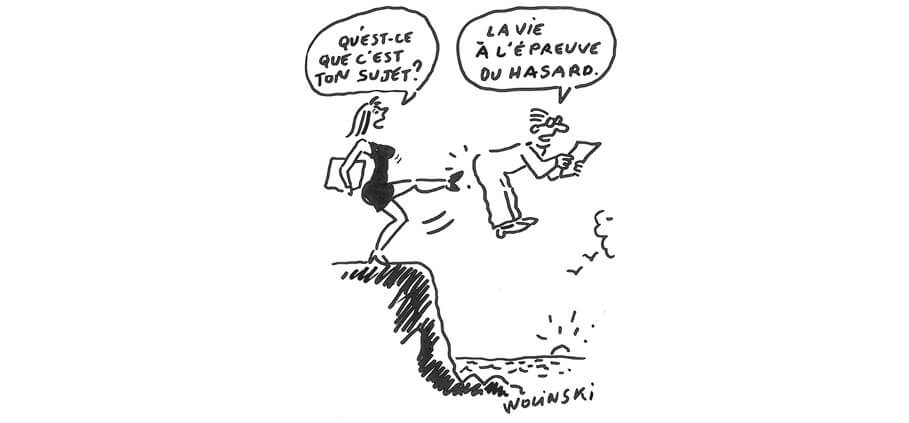 Georges Wolinski
From 13/04/2018 to null
The tribute paid to George Wolinski, in response to the themes in the season of Discord, takes interest in the internal conflicts, in the questioning, in the intimate voices that release contradictory desires and thoughts. The exhibition presents pieces depicting the feelings and legacy of an artist who is a fine observer of the disruptions and frenzy of the world.
In showing works such as a film on the birth of evil, co-directed with Michel Boschet, Le Pays Beau (1972), and sixty original drawings and research plates from the end of the 1950s to the eighties, the Palais de Tokyo invites the viewer to discover an unknown side of the famous press cartoonist, George Wolinski.
In stepping away from the political polemicist, or the provocative journalist and heir to cartoonists such as Albert Dubout, Jean Bosc or Copi, we are introduced to a minimal, incisive and poetic artist, whose work is influenced by the doubts, questions, and visions that he's always had. Through the recurring imagery of cliffs, entrapment, animals, time, or love, Wolinski's work raises existential questions that haunt humanity and its history. The exhibition paints the portrait of an artist whose work, rebellious and anguished, furthers a constant questioning.
Curator: Rebecca Lamarche-Vadel
Open every day except Tuesdays, from noon until midnight.
« We need to nationalise happiness ». Georges Wolinski