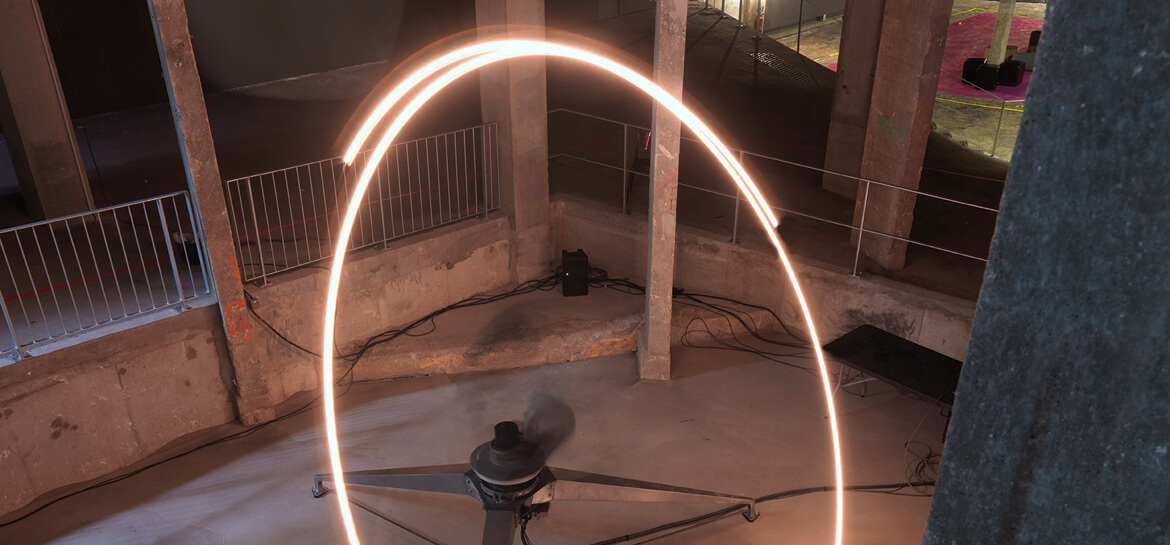 ADA
From 24/02/2013 to 19/05/2013
An industrial robot that has been transformed into a choreographed light sculpture, inspiring a series of musical responses; evading the notions of both artwork and performance.
An industrial robot transformed into a choreographed light sculpture informs a series of musical commissions inspired by Ada Lovelace (1815-1852)–Lord Byron's daughter and a British mathematician known for her tempestuous life story. The ADA project embodies both the scientific ideas that Lovelace pioneered and the extraordinary times she inhabited. The exhibition unfolds over the course of the summer with a simultaneous residency program in the artist's London studio where inventive female musicians compose original scores to accompany an identical twin robot at Palais de Tokyo.
Inspired by the life of the Victorian mathematician, Ada Lovelace, artist Conrad Shawcross has transformed an industrial robot into a choreographed light sculpture which forms the origin of a series of musical commissions and residencies by leading female composers and performers. The performative installation unfolds over the course of the summer in both the Palais de Tokyo and the artist's London studio.
Acknowledged by some as the first computer programmer, Lovelace worked alongside Charles Babbage, the inventor of the Analytical Engine – the first mechanical computer. While the immense machine was never completed in their lifetimes, Ada saw its potential beyond mere calculation; predicting computer-generated music in her notes.
Furnished with a series of background texts, imagery and related material, Shawcross's studio serves as a laboratory and residency space for each composer-performer to respond to the presence of the robot's silent choreography. The resulting music is born from the story of Ada, and the movement, physicality and visual aesthetics of the robot. An identical robot is installed at the Palais de Tokyo, perpetually carrying out its choreography, casting light on the different aspects of Lovelace's extraordinary life.
COMPOSERS
Artist: Beatrice Dillon with Rupert Clervaux
Title: ADA 1
ADA 1 is made of two main elements: field recordings of the ADA robot and recordings of a piano and harpsichord. Working at Shawcross' studio, Dillon and Clervaux made close-mic recordings of the robot carrying out specific sets of motions: the whirring fuzz of the engine, the vibration of the tripod legs on studio floor, the tonal resonance of the metallic parts. Later they recorded a Schimmel 205 Grand Piano and Goble Concert Harpsichord in order to build sample libraries and combinations of sounds prevalent in the music of Lovelace's day. These were then sequenced and arranged in ways that suggest the vision that Lovelace had for the computer's role in manipulating music.
Beatrice Dillon
B. in 1978 in London (England), lives and works in London.
Rupert Clervaux
B. in 1976 in London (England), lives and works in London.
 
Artist: Holly Herndon
Title: Relations
Using a combination of algorithmic vocal processing, recordings of the robot in motion and multichannel spatialization, Holly Herndon attempted to express the sentience implied in the robot's movements as she curiously probes and surveys her environment. As the robot becomes more confident, the composition blossoms and her movements develop into energetic expression.
Ada Lovelace made the unprecedented conceptual leap to both notice and attempt to express the computational potential of machines. In line with the new frontier of inquiry into the coming singularity, Horndon challenged herself to not merely soundtrack the robot's movements, but attempt to listen, empathize and give voice to its expressions. To this end, she deliberately attempted to devise an alien palette of sounds and use the motion of the robot to make sense of them, tying them together in harmony and rhythm.
Much of Herndon's work is centered on shattering the perceived dualism between humans and computers. Relations offers a continuation of that research and humble celebration of the venerable history of empathic human/computer relations.
Holly Herndon
B. in 1980 in Johnson City, TN, lives and works in San Francisco.
CURATOR
Ken Farmer (b. Memphis, 1984) is a New York-based curator whose collaborative interventions activate urban space and re-imagine public art as a democratic medium. Farmer's ambitious vision and placemaking sensibility have led to innovative collaborations, new works, and site-specific adaptations with renowned visual artists including Vito Acconci, Rita Ackermann, Daniel Arsham and Richard Serra. His projects have been featured in the Venice Architecture Biennale, the New Museum, on the facades of abandoned factories and in St. Patrick's Basilica, in New York.
WITH
ADA continues Conrad Shawcross's (b. London, 1977) exploration of enigmatic machines bridging natural forces and mechanical production, philosophy and physics, science and sculpture. Shawcross's work moves fluidly between archaic wooden constructions and advanced technologies, resulting in anachronistic creations that reflect on metaphysical ideals. As anthropomorphic performers, Shawcross's machines surpass their mere mode of production to become the sculptural form themselves. The reconfigured works are stripped of their intended functionality and imbued with a grace unimaginable in their original incarnation.