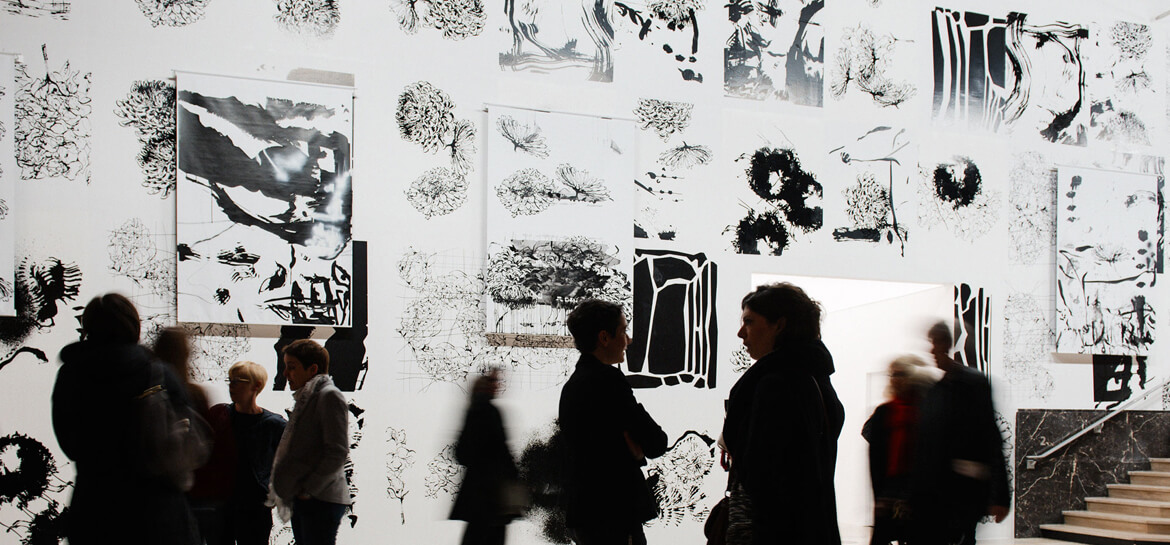 Stéphane Calais Les roses et les verts (une fête galante) and Automne Hiver
From 18/02/2016 to 11/09/2016
In 2016, Palais de Tokyo is inviting Stéphane Calais (born in 1967 in Arras, lives in Paris) to produce two new pieces Automne Hiver in the building's hall and Les roses et les verts (une fête galante) on its windows. In a play between the interior and exterior, and colour and black-and-white, his interventions act on the very structure of the place, giving it a new dimension.  
By blowing-up fragments of his paintings onto sheets of paper of the same format as the outer windows of Palais de Tokyo along the avenue du Président Wilson, Stéphane Calais is displaying both a pictorial gesture and its materials.
In the hall of Palais de Tokyo, Stéphane Calais is producing a monumental mural collage made up of over a hundred unique, black-and-white silk-screen prints, of the same format. Wavering quite clearly between abstraction and figuration, their motifs – flowers, blots and various other shapes – are echoed across ten hanging sheets. Drawing remains his principal tool, and the artist is here examining some of the essential preoccupations of this field of representation (for example, looking at the nature of a line which can depict a flower, while another suggests an abstract form). In so doing, Stéphane Calais has imagined a piece of a complex, scintillating uncertainty, marrying the impermanence of flowers to that of posters, or multiple lines to a single one.
 
"I just see my pieces' efficacy in terms of my commitments. Quite naturally, drawing, my main tool, allows me to navigate the various fields that it crosses: in other words, all of them. The questions that then arise in terms of the media used (painting, mural drawings, collages of objects or images…) are classic ones. But it is in their coming together, their closeness, that tensions, ellipses or short cuts occur." Artist's statement quoted in a presentation of his work when nominated for the Prix Marcel Duchamp, in 2008.