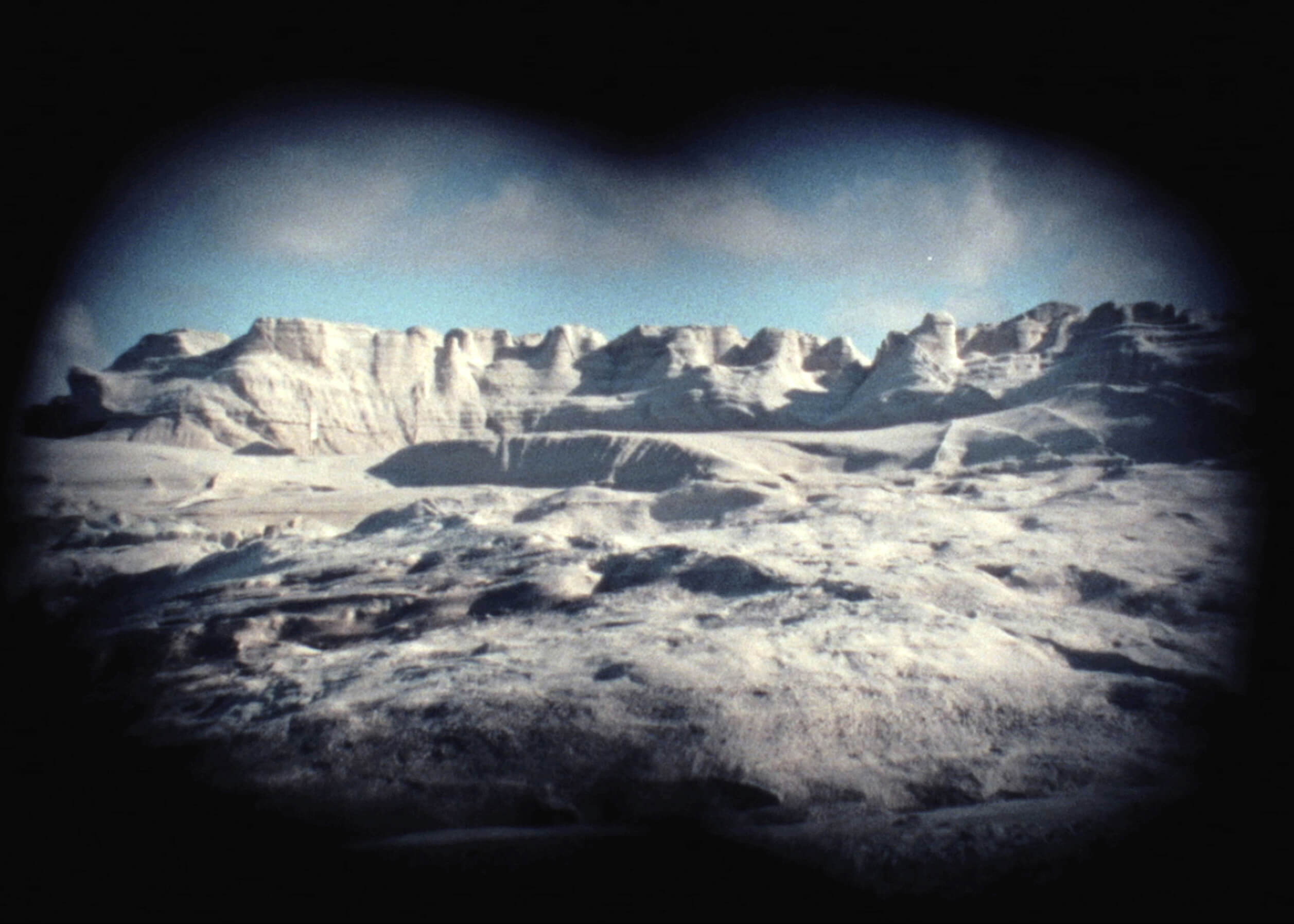 Our world is burning
From 24/04/2020 to 26/04/2020
Screenings
From miners in Surinam to female shamans associated with the Princess Bari cult, taking in the Ocean that has become a being gifted with speech, the films in this cycle of projections form a polyphony of voices, giving the word back to beings suffering from a form of invisibility. The point is thus to make more complex our relationship with the world and weave together pathways that transcend preconceived schemas.
– Francis Alÿs – Colour Matching (2016)
– Jane Jin Kaisen – Community of Parting (2019)
– Katia Kameli – Ya Rayi (2017)
– Basim Magdy – No shooting stars (2016)
– Raqs Media Collective – Provisions for Everybody (2018)
– Ben Russell – Good luck (2017)
Francis Alÿs, Colour Matching (duration: 5min)
Screenings on 24th April at 7:10pm, 25th April at 4:25pm, 26th April at 1pm
As a testimony of his stay in Iraq with the Kurdish Peshmerga forces, Colour Matching draws viewers in through a disturbing contrast between the background of war and the lightness of the artist's gesture in the foreground, seeking a possible harmony between these two universes. Francis Alÿs thus questions artists' role as witnesses of history, and more exactly their will – and capacity – to inform the public in an already hyper-mediatised world.
Jane Jin Kaisen, Community of Parting (duration: 1h15)
Screenings on 24th April at 2pm and 7:30pm, 25th April at 4:30pm, 26th April at 1:05pm
Centred around the Korean shamanic myth of Princess Bari, who was abandoned at birth, Community of Parting offers a more general reflexion about the history of Korea – from the Japanese invasion to the contemporary travels of its diaspora, without forgetting the Second World War and the division of Korea along the 38th parallel. As a parable of the oppression undergone by women, this legend unveils the paradoxical dynamics in the social fabric, while the issue of climate change is also brought into this journey, taking the spectators to Kazakhstan as well as to the USA and Germany.
Friday 24th April at 7:30pm: Screening of Community of Parting followed by an encounter with Jane Jin Kaisen.
Katia Kameli,Ya Rayi (duration: 20min)
Screenings on 24th April at 3:15pm, 25th April at 5:45pm, 26th April at 2:20pm
Ya rayi! is an interjection that set the rhythm of ritual festivities in the Oran region in the early 20th century. It also means "that's my destiny", "that's my opinion" or else "that's my rai" in colloquial Arabic. Based on this etymological wealth, she has developed her work Ya Rayi, which takes us from one bank of the Mediterranean to the other, from the record shops of Oran to the Bejaïa Club in the Barbès neighbourhood of Paris, following the tracks of rai, a popular Algerian musical genre which emerged straight from the streets of Oran.
Basim Magdy, No shooting stars (duration: 15min)
Screenings on 24th April at 3:35pm, 25th April at 6:05pm, 26th April at 2:40pm
Between a dream and an anticipatory tale, the film works of Basim Magdy spirit reason away. They dislocate historical time and elude any form of geographical localisation. Such is the case for No Shooting Stars, a miniodyssey divided into different mineral and vegetal landscapes, in which the ocean has become a living entity able to speak in its own name. In this way, the artist relativizes human knowledge, and opposes to the modern ideal of mastery a form of animist poetry which sometimes verges on the absurd. A beetle, waves and rocks, a gull on the shore are some of the motifs in this abstract journey, filmed in super 16, bearing witness to a particular attention paid to nature.
Raqs Media Collective, Provisions for Everybody (duration: 55min)
Screenings on 24th April at 3:50pm, 25th April at 6:20pm, 26th April at 4pm
Provisions for Everybody takes its inspiration from the life of the British author George Orwell, and above all his book The Road to Wigan Pier. The film retraces the collective's journey to the emblematic places that marked the writer's life: from his place of birth in Motihari in India, via Newcastle and Durham where he investigated the coal mines, to the streets of Barcelona where he dodged the bullets of the Francoist militia. This singular expedition led them to a reflexion about the multiple realities particular to the territories they passed through, with their gazes focused as much on the animal life around them, as on religious rituals, or the industrial activity, marked by coal mining.
Friday 26th April at 4pm: Screening of Provisions for Everybody followed by an encounter with Raqs Media Collective.
Ben Russell, Good Luck (duration: 2h25)
Screenings on 24th April at 4:45pm, 25th April at 2pm, 26th April at 7:30pm
Serbia and Suriname, black and white and colour, a space under the open sky and a labyrinth in the depths: Good Luck (2017) is structured using a play of oppositions around the situation of miners. Whether underground or in the jungle, the same close attention to the workers' bodies can be felt – bodies as a work force, defining a community of labour whose gestures form the powerful but unheroic signs of this industrial era, called the Anthropocene. By excavating these figures on 16mm film, in the gleam of their flashlights or in milky sunlight, Ben Russell provides a non-narrative account of these experiences, but also of the memories of these men, whose physical endurance is more eloquent than any number of words.
Friday 25th April at 7:30pm: Screening of Good Luck followed by a debate animated by Fabien Danesi.