DO DISTURB
From 6/04/2018 to 8/04/2018 Friday, April 6 6 p.m. – midnight Saturday, April 7 2 p.m. – midnight 11 p.m. – 5 a.m. : DISTURB night at YOYO Sunday, April 8 Noon – 6 p.m.  
Performance, dance, music, theatre… For the 4th consecutive year, the DO DISTURB festival will electrify Palais de Tokyo.
Fatima Al-Banawi, Pia Camil, Gabrielle Goliath, Kubra Khademi, Louise Siffert, Jamila Johnson-Small: these are just some of the women artists present at DO DISTURB this year.
With :
Alice Pons, Olivia Reschofsky, Zsofia Paczolay (Moha Project)
Andrés Aizicovich
Angelica Mesiti & Uriel Barthélémi
AUTOPALO (Luca Resta, Emanuele Rinaldo Meschini)
Aymeric Hainaux
Cecilia Bengolea
Dance On Ensemble
Diamètre
Dorota Gaweda & Egle Kulbokaite
Ekaterina Vasilyeva
Emo de Medeiros
Fatima Al-Banawi
Florence Peake
Florent Audoye
Frédéric Nauczyciel and Marquis Revlon
Future Ladies Of Wrestling (F.L.O.W.)
Fyodor Pavlov-Andreevich
Gabrielle Goliath
Guilherme Peters
Hobe Lasai
Jamila Johnson-Small
Jeremy Nedd
Jerome Violent
Kubra Khademi
Laurent Lacotte & Arthur Mayadoux
Lila Derridj
Louise Siffert
Luca Pozzi
Marcelo Cidade
Michaela Meschke
Nils Bech & Ida Ekblad
Pauline Barboux & Jeanne Ragu
Pia Camil
River Lin
Romain Lalire
Wagner Schwartz
Zadie Xa
L'Institut d'Esthétique, by Haily Grenet, Emile Degorce Dumas and Vincent Voillat, invests one of the large spaces of Palais de Tokyo and offers over fifteen "care" cubicles. Offering manicures, a sauna, snail beauty care, or else haircuts, the Institut d'Esthétique provides moments that are as relaxing as they are unsettling.
With : Julie Béna / Lorette Cole Duprat / Emile Degorce Dumas / Caroline Delieutraz / Wim Delvoye / Virginie Dinier / Mathilde Fernandez & Cecile Di Giovanni / Matthias Garcia / Goiffon & Beauté / Julie Le Guern / Claude Lévêque / Elsa Philippe / Maxime Rossi & Guests / Agathe Soumireu-lartigue / Vincent Voillat / Yarisal & Kublitz / Francois X & Laura O'rorke / Le Wonder (Guillaume Gouerou, Nelson Pernisco, Basile Peyrade, Simon Nicolas, Maxime Fourcade) & Guests / Collectif Wolsodonails & Pauline Payen.
BYOP (Bring Your Own Performance), on a proposal from Manon Klein, with Diamètre, a selection of BYOP projects will bring few surprises.
With : Pauline Coquart, Kevin Desbouis, Richard Floquet, Jessica Guez, Manifestation (Manon Klein, Anne-sophie Luyton et Margot Nguyen), Paloma Moin, Antoine Proux, Orfeo Tagiuri, Sengthé Vanh Bouapha.
General curator of the festival: Vittoria Matarrese
DO DISTURB has previously had the honour of organizing the first presentations in France of work by artists such as Anne Imhof and Gerard&Kelly, with each edition of the festival creating links with cultural actors in France and abroad. This year, Palais de Tokyo continues to pursue its policy of extending invitations to prestigious institutions. The festival's first year saw partnerships with MoMA PS1, the Tate Modern and Matadero Madrid, the second edition welcomed research departments from French and European art and design schools, while last year's instalment included collaborations with other international festivals such as TBA in Portland and Dias da Dança in Portugal.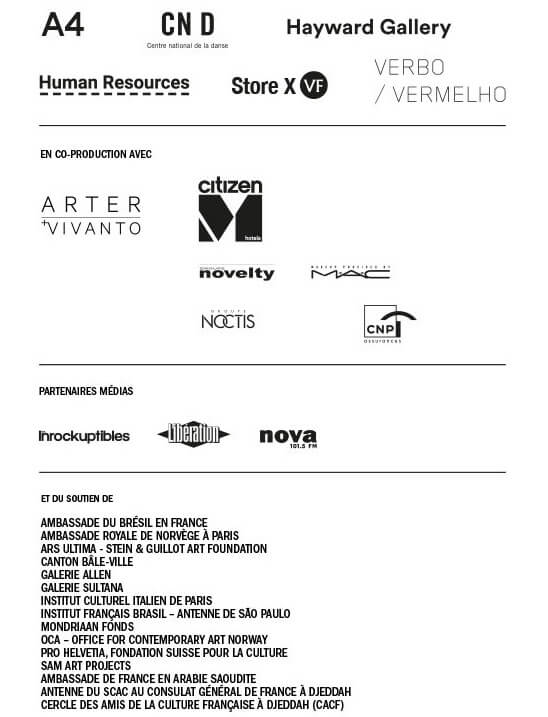 Stanislas Bourgain Gallery
La Cité internationale des Arts