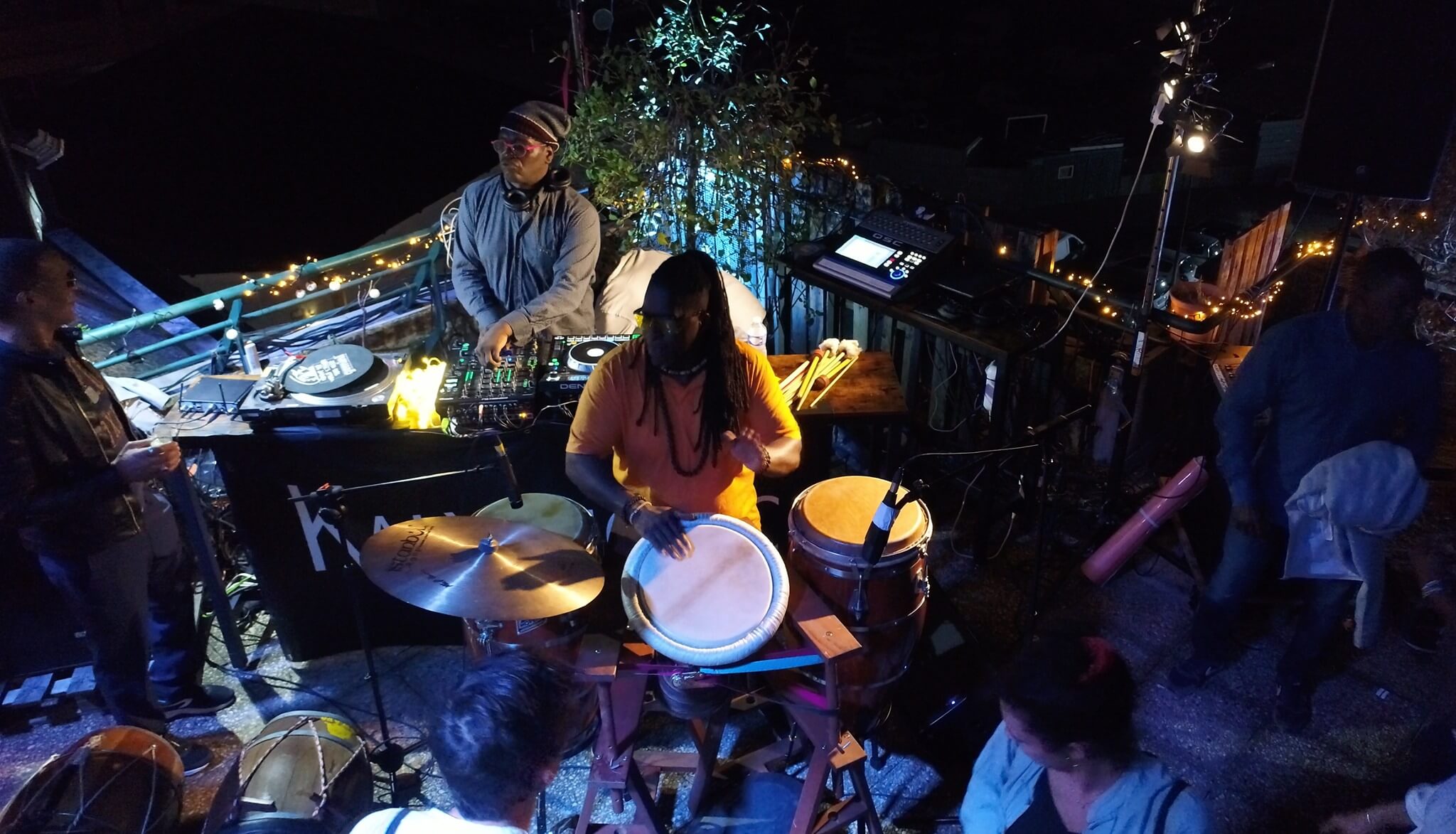 DJ mix by Motsek and drums by Dominique Tauliaut
The 19/02/2022 De 19:00 at 21:00
As part of the last days of the "Ubuntu, a lucid dream" exhibition, the Library of Things We Forgot to Remember invites DJ and producer Motsek, along with percussionist Dominique Tauliaut, on Saturday 19 February, from 7 pm to 9 pm, for a mix combining their selection from the vinyl albums on display with their personal tracklist to the rhythms of live percussion.
DJ, producer, percussionist and founder of the label Kaphonic Records, Motsek is a researcher of musical effervescence on a boiling afro-electro scene. Of Guadeloupean origin, Motsek calls himself a Karukaean (name given by the Amerindians to the island), and fragments this heritage to recompose it in the light of his travels. Elektroska, gwo ka, new cumbia, bèlè, deep house, soulful, voodoo, ghetto funk : as many creative rhizomes that constitute his aesthetic imprint in a hybrid, melodic and vibrant style, which he calls Post Exotik/Deepelektropical.
The duo he forms with Dominique Tauliaut, percussionist for the groups Balkouta, Kassav and many others, presents a new experience for dance-floors in search of mad combinations, abrupt materials, vertiginous fusions and anthropophagous boundary plays. They have imagined their set as a collaboration between Gwo-Ka and tropical electro rhythms, to look the future straight in the eyes freed from all exotic hindrances.
The Library of Things We Forgot to Remember
The Library of Things We Forgot to Remember, presented for the first time in France, is a project by artist Kudzanai Chiurai. The extensive collection of archives, mostly sound, on view in this library constitutes the soundtrack of the struggles for civil rights and liberation movements in the global south. This space of hospitality, considered a liberated zone, regularly hosts DJ-sets and a series of sessions that intersect speech, poetry, performance and music, focusing on practices and imaginaries in resistance.
This mix concludes the Library of Things We Forgot to Remember's DJ Mix program, featuring Kenzhero, Damani Nkosi, Violet Indigo and Kali Kalité from Batardes de Gardes, Jay Ramier, Lazy Flow and GREG from LA CREOLE, Ana Tjé aka AnnatheSupernova, Kleopatra Divine and Fallon Mayanja aka SkySeas. This DJ mix activates the turntables one last time on the eve of the exhibition's last day, and on this occasion, you may have the chance to see the curator, Marie-Ann Yemsi, spin some records and share her favorite tracks.