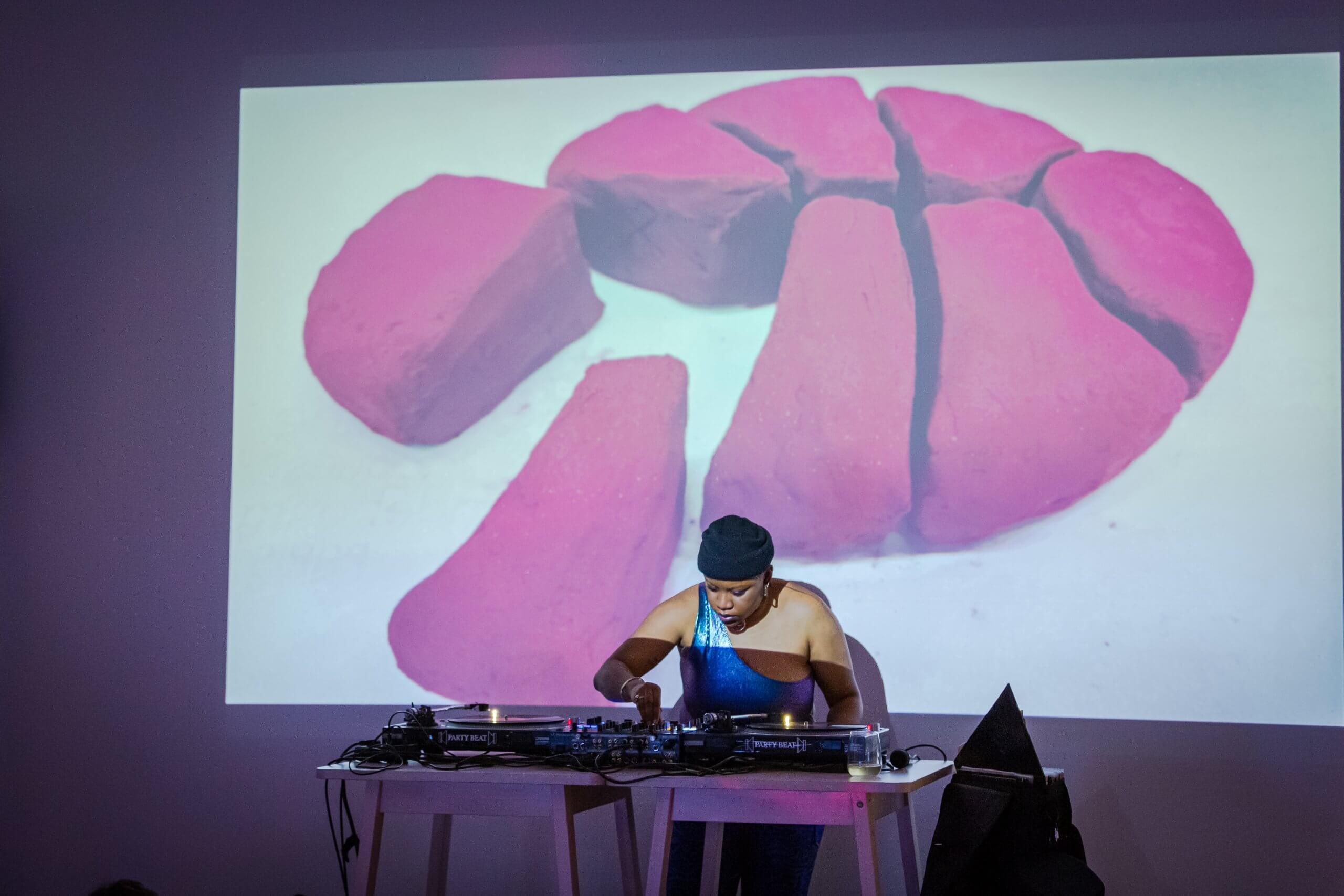 DJ mix by Soñ Gweha — aka AnnaTheSupernova
The 20/01/2022 De 19:00 at 21:00
At the heart of the exhibition ''Ubuntu, a lucid dream'', the Library of Things We Forgot to Remember welcomes Soñ Gweha (formerly known as Anna Tje aka AnnaTheSupernova), on Thursday, January 20th from 7 to 9 pm. Soñ Gweha invites you to a set titled Slow Jams and the stars between them that will blend the music of the vinyls on display with her personal tracklist, from Ngobilo to Cergy-Pontoise, in echo with the soundtracks of emancipation that run through Sarah Maldoror's cinema.
Artist, activist and researcher, Soñ Gweha oscillates between contemporary creation, research and collective practices for transformative justice. Through a transdisciplinary practice of video, performance, installation, sculpture and sound, the artist questions ancestrality and genealogies of the black diaspora through the lens of Afro-feminist and queer thought.
Drawing from her personal archive, her Bassa cultural heritage, and the paths of feminist and/or queer activists, poets, and theorists of the African diaspora, Soñ Gweha creates immersive or in-between-worlds spaces that rearrange past-present-future time. Such spaces become places of rejoicing where various forms of queer eroticism, narratives, and family ties can emerge and subvert social norms.
In Slow Jams and the stars between them, Soñ Gweha proposes a collaborative experience that aims to bring people together in the power of the erotic, awakening thoughts of love and feelings of resistance through revolutionary music from Sarah Maldoror's discography, Slow Jams R&B, ballads, zouk tunes and makossa.
The Library of Things We Forgot to Remember
The Library of Things We Forgot to Remember, presented for the first time in France, is a project by artist Kudzanai Chiurai. The extensive collection of archives, mostly sound, on view in this library constitutes the soundtrack of the struggles for civil rights and liberation movements in the global south. This space of hospitality, considered a liberated zone, regularly hosts DJ-sets and a series of sessions that intersect speech, poetry, performance and music, focusing on practices and imaginaries in resistance.