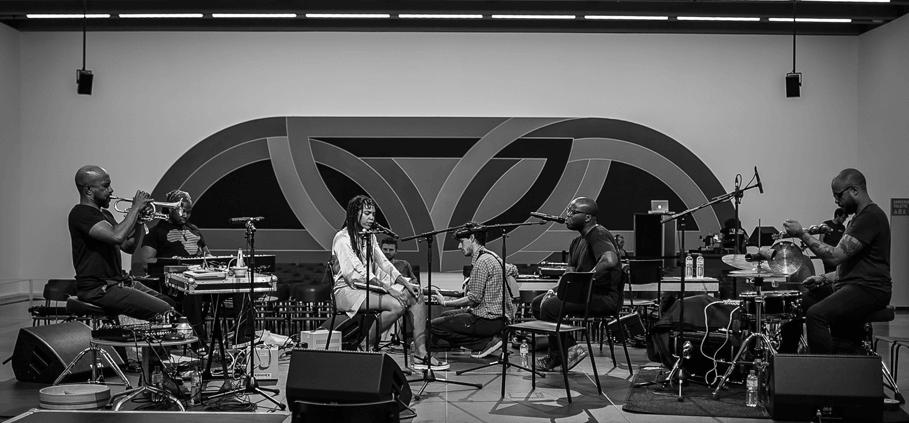 Dialogue and concert on Theaster Gates's exhibition With Theaster Gates, Romi Crawford, Clémentine Deliss et "The Black Monks"
On 20/02/2019 from 6:30 pm  
The Palais de Tokyo presents a special event for Theaster Gates's first solo museum exhibition in France,
Amalgam
, on the 20
th
of February at 6:30 pm.
The meeting will be a dialogue at the Toguna with Theaster Gates, Romi Crawford and Clémentine Deliss.
With the collaboration of MONA BISMARCK AMERICAN CENTER.
With the support of the Lunder Institute for American Art (Colby College).
After the dialogue, a special concert of the Black Monks, an experimental music ensemble founded in 2018, will take place in the "Amalgam" exhibition space.
Directed by Theaster Gates, the group's music is influenced by diverse traditions, including gospel, blues as well as Buddhist and zen singing.
With: Joshua Abrams, Yaw Agyeman, Lisa Alvarado, Mikel Patrick Avery, Michael Drayton, Ben LaMar Gay, Kiara Lanier.
This exhibition benefits from the support of the Regen Projects gallery (Los Angeles), the Richard Gray gallery (Chicago) and White Cube (London and Hong Kong). This exhibition also benefits from the support of Gagosian.
Clémentine Deliss is a Curator, Editor and Cultural Historian. She studied Contemporary Art and Semantic Anthropology, has a Ph.D. from the University of London (SOAS, thesis on the journal Documents, 1929-31 and the Dakar-Djibouti Mission, 1931-33). Between 2015 and 2016, she was the main Curator of the IDeA Foundation (Armenia) where she started the "Dilijan Arts Observatory" in the ancient soviet electronic factory Impuls. From 2010 to 2015, she was the director of the Weltkulturen Museum in Frankfurt am Main, and created a new research lab to reactivate ethnographic collections. From 2002 to 2009, she animated the transdisciplinary collective "Future Academy", with search cells taking place in Dakar, London, Edinburg, Mumbai, Bangalore, Melbourne and Tokyo. She is known for dedicating eleven years of research to the production of printed organs, including two important editions that were displayed at the Kassel documenta (1997, 2007). Recognized as an intercultural vehicle and curatorial platform, her production of "Metronome" (Dakar, 1996 – Tokyo, 2007) aimed to create some professional focal points between artists and intellectuals working in the isolated world's metropolises before the development of websites.
She is currently a Professor of curatorial theory and dramaturgic practice at the University of Arts and Design of Karlsruhe, Faculty at large of the School of Visual Arts in New York and Curator at large in Zeitz MOCAA, Cape Town. She lives in Berlin.
Romi Crawford (Ph.D.) is a Professor of Visual and Critical Studies at the School of the Art Institute of Chicago. Her research and writing explore areas of race and ethnicity as these relate to American visual culture (including art, film, and photography). She is co-author of The Wall of Respect: Public Art and Black Liberation in 1960s Chicago (Northwestern University Press, 2017). Additional publications include "Do For Self: The AACM and the Chicago Style" in Support Networks (University of Chicago Press, 2014); "Ebony and Jet on Our Mind" in Speaking of People (The Studio Museum in Harlem, 2014); and Theaster Gates Black Archive (Kunsthaus Bregenz, 2017). She was co-curator of the 2017 Open Engagement conference in Chicago and is founder of the Museum of Vernacular Arts and Knowledge, a project-based platform for art making that is out of sync with museum and gallery values. She was previously Curator and Director of the Education Department at the Studio Museum in Harlem.