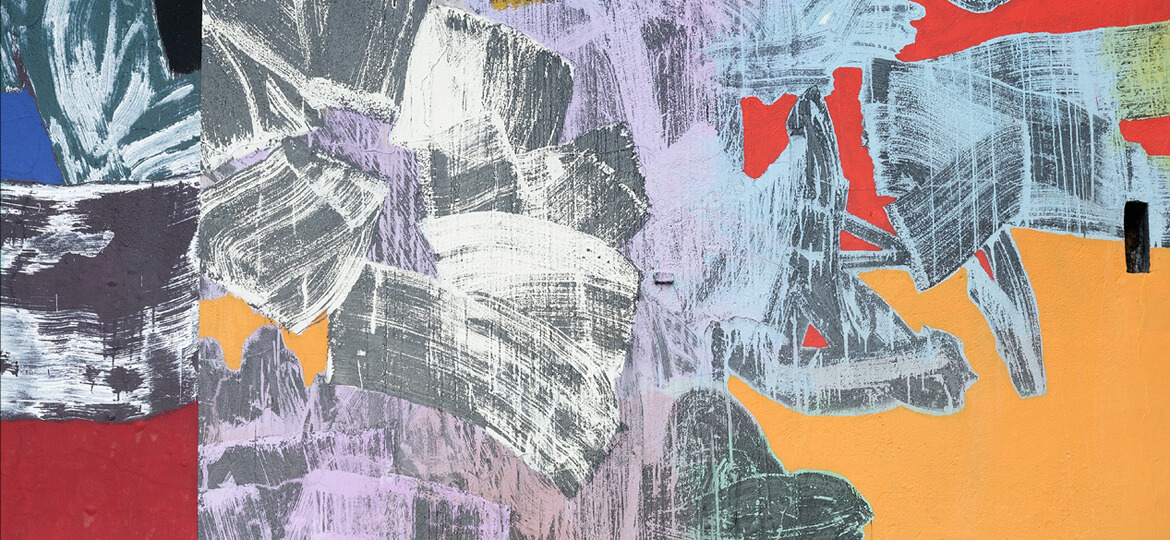 LASCO PROJECT #7
From 03/02/2016 to null
As of December 13, 2016, Palais de Tokyo is presenting Lasco Project #7, the seventh stage in its urban arts programme, with an original intervention by Pablo Tomek, and the presentation of Philippe Baudelocque's completed project.
Pablo Tomek, Public Works
Equipped with fluorescent spray paint, used for marking the ground, brooms, sponges and a steam-cleaner, Pablo Tomek is producing a monumental painting measuring 500m2 on the arches of the Palais de Tokyo, which lie beneath Avenue du Président Wilson. Its composition is dictated by the frenetic repetition of the gestures that drive the mechanical, anonymous practices of tagging and cleaning, which are part of the daily life of cities. By confronting the body and painting with space, between constant energy and fatigue, Pablo Tomek creates a painting which toys with its own destruction, resulting in a dance of pictorial spectres: the ghost of painting resisting its own obliteration, the ghost of art history (from Bertrand Lavier to Christopher Wool).
Philippe Baudelocque, – + | = +
Philippe Baudelocque traces his cosmic bestiary in white chalk on a black background, with his infinite universes, handprints, UFOs in perspective, intermingled magmas and vegetal stars, all of which make for a series of pieces composed of mysterious, desacralized symbols. His fragile, ephemeral frescoes contain cells, shooting stars, crossed lines and other patterns – his "codex" – all sketched in advance in a notebook.
At Palais de Tokyo, for his first large-scale project in an institution, Philippe Baudelocque is refurbishing a monumental staircase – between a spatial elevation and a fall into the abyss – where he is weaving connections between different series, plunging the spectators profoundly into his atomic trajectories. Between the lines and shadings of these unstable landscapes, the macro meets the micro, the physical becomes mental, the vertical defies the horizontal, the solid answers to the liquid, strength cohabits with the vulnerable, and the wild takes on a domesticated look.
Begun in July 2016, Philippe Baudelocque's fresco has just been completed.
Curator: Hugo Vitrani
Pablo Tomek's work can be seen on the arches of Palais de Tokyo's building, running below Avenue du Président Wilson.
Philippe Baudelocque's piece is situated within the spaces of Palais de Tokyo and is accessible during visits to the Lasco Project.
"Workmen spread whitewash – a chalk-based paint, diluted with water – over the windows to hide from curious eyes. This practice is characterised by the energetic movements of arms and the traces of the sponges that are used. Such anonymous paintings can be encountered by chance in the streets: some are opaque, others less so, some movements are vigorous and aggressive, others made more slowly, producing softer and almost relaxing forms." Pablo Tomek.