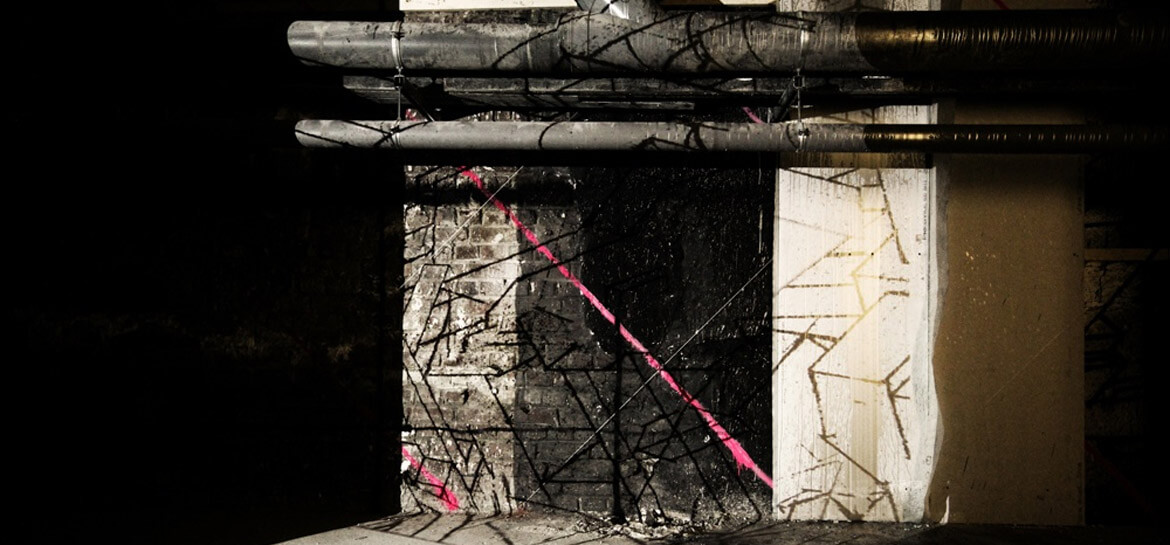 LASCO PROJECT #2
Boris Tellegen
From 20/11/2013 to 17/08/2014
Palais de Tokyo renews its commitment to the urban arts by dedicating new spaces to graffiti and street art, with Lek, Sowat and Hugo Vitrani at the helm.
Intersections of black lines and crisscrossing chrome, pink and fluorescent orange vertical lines are extended by taut threads. Resembling overlapping, deconstructed letters, these graphic compositions create a momentum that is caught in the fissured drywall and covered in black and silver lightning, spat out by a paint-rigged fire extinguisher – the DIY weapon of choice of the painters of large scale vandalism. Projected shadows, reflections on ceilings and walls, broken mirrors creating effects of symmetry and dissymmetry: Boris Tellegen lacerates the space of his "Zone de Faille" [Fault Zone], confronting its architecture to provoke new perspectives into existence.  
Boris Tellegen describes his visual work as a dialogue with architecture: the imposing canalization of the Palais d Tokyo crosses through the center of his composition. He also extends the repetitive rigor of the fireproof ceiling, absorbing the fluorescent spray-painted outlines of electrical boxes, traced by the Palais de Toko's architects during the building's renovation. His precarious installation of layers of insulation, mirror and transparent plastic film evokes an incomplete construction blueprint or the vestiges of a wall in ruins.
Boris Tellegen (born in 1968 and based in Amsterdam) is a pioneer of European graffiti art, a counterpart of its American canon. Boris Tellegen, alias Delta, played a key role in connecting the London, Amsterdam and Paris art scenes that shook up the '80s, era of the crews CTK, USA, TCA and BBC. Combining his work in typography with his training as an engineer, Delta brought perspective and three-dimensionality to graffiti art.
Over the past ten years, Boris Tellegen has transitioned from his focus on graffiti and lettering to develop complex installation in which he examines the symbolic power of walls (emblems of incarceration, of borders, etc.). In his current work, graffiti becomes a medium like any other, along with architecture, industrial design and painting: media which he assembles, covers and tears to create abstract, graphic landscapes that disrupt our perception of space. Brutal or fragile, in concrete, wood or collage, Boris Tellegen's work operate between violence, fragility and chaos, as an echo of natural or social catastrophes (the failure of post-industrial society, economic decline, the climate crisis).