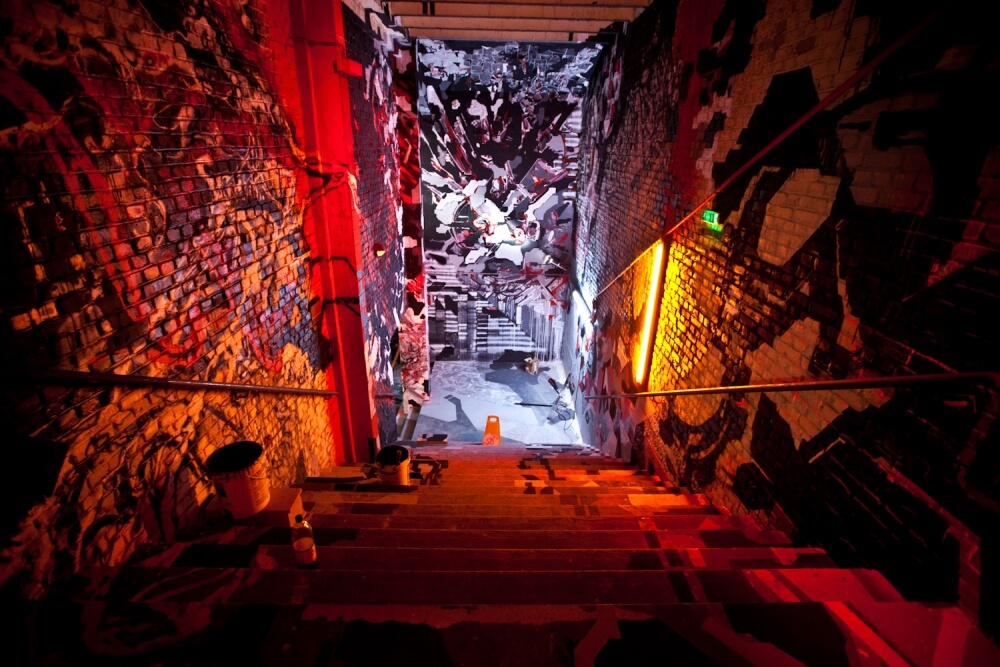 LASCO PROJECT #1
The De at
For the first session of the LASCO PROJECT, Palais de Tokyo's programme devoted to the urban arts, Lek, Sowat, Dem189 and their guests have deconstructed the space and lacerated the architecture, while imposing a black-white-red colour code, along with paintings recovered from the stocks of the art centre. This monumental immersion envelops the spectators in a brutal, neon-lit territory. The confrontation with the walls painted in an authoritarian style shows up details which are precious, sometimes destroyed (but archived), while all the artist have added their own lines, gestures, stories and postures, in a furtively vaporous composition where egos and styles cover up each other and collide. It is a zone saturated with paintings where, in July 2013, Larry Clark came to shoot several scenes of his film "The Smell of Us".
With: Alëxone, André, Azyle, Babs, Philippe Baudelocque, Bom.K, Cokney, Dem189, Dran, Ether & Utah, Futura 2000, Nicolas Gzeley, Hoctez, Horfee, Jay One, Kan, Katre, Legz, Arnaud Liard, Lek, L'Outsider, Silvio Magaglio, Mode 2, Nassyo, O'clock, Sebastien Preschoux, Mr. Qui, Nibor Reiluos, Rizote, Roti, Sambre, Seb174, Seth, Sirius, Skki, Smoe, Sowat,  Swiz, Velvet, Jacques Villéglé, Wxyz, Zoer.
Curator: Hugo Vitrani
The program of urban art at Palais de Tokyo
Initiated in 2012, the LASCO PROJECT reveals, in the meander undergrounds of the building of Palais de Tokyo, one of the most surprising urban art course in a cultural site. About sixty international artists that register the street in art history achieved some interventions, monumental for some, secret for others, that confront to the brute architecture of the Palais de Tokyo and infiltrate its interstitial spaces (hallways, stairs, passage) on more than 1 kilometre.
Free guided tours every Wednesdays, Saturdays, and Sundays at noon & everyday (except Tuesdays) at 10 p.m.
_
Free upon presentation of your entry ticket.
_
Duration: 30 mins
"The Palais de Tokyo continues its commitment towards urban art. Constantly renewing the rapport to the institution and according a place of honour to the infiltration of public space, to its exploration, its diversion, urban arts lie at the closest to the way we see art at the Palais de Tokyo: it extends, infiltrates, sometimes bothers until it becomes territory. Our mission is to create some permeability in this territory so it can drastically enrich the art ecosystem." Jean de Loisy, President of Palais de Tokyo